Updates & Changes: Sunday, December 1, 2013, thru Saturday, December 7, 2013


December 4, 2013 - I awoke this morning feeling I really needed to read through my supplemental web page about When and Where Ivins Made the Anthrax Powers to see if anything needed to be changed as a result of the discoveries made over the past few days

proving

that Bruce Ivins did

NOT

check on the mice in Patricia Fellows' "Passive Mouse Experiment," as "Anonymous" had been claiming.

And

that Ivins most likely sneaked into the Animal Resources Division corridor via the unmonitored door from Suite B5 in order to view Suite B3 through the "crash door."

I made a few changes, including adding the data about what Ivins did on Sept. 30, 2001.

I also feel that in my previous comments I should have provided a floorplan for the Bacteriology Division and where the Animal Resources corridor is located relative to Suite B3. The graphic below provides that information. Click on it for a larger version.




If I had the time to do this floorplan over again, I'd fix it to show that Ivins could not get from the Bacteriology Division Corridor to the Animal Resources Division Corridor via the corridors between Suites B2 & B3 and between Suites B4 & B5. They were blocked off with steel gates. Plus, I would have highlighted the door from Suite B5 into the Animal Division Corridor which was NOT controlled by a key card, nor was it a crash door that would sound alarms. Thus, Ivins could use it to get into the AR corridor.

Why Ivins didn't use the same door to get into AR that he used to get out (and which is right next to his office) is somewhat of a mystery, but it can probably be safely assumed that either (1) his keycard didn't

allow

him to

enter

that way, or (2) he felt he'd leave no in-out log trail if he entered via the unmonitored Suite B5 door.

What the debates with "Anonymous" did for me during the past few days is allow me to show

solid PROOF

that Ivins was NOT checking on test mice during his "unexplained" hours in Suite B3, and there is

absolutely NO reason

to believe any rabbit experiments which were going on at that time account for any of the "unexplained hours" either.

December 3, 2013 (B) - Ah! While doing my regular workout on the treadmill at the health club (a.k.a. "gym") this afternoon, all the major pieces for the concluding events in my novel appeared to fall into place - plink, plink, plink. I just need to lay things out on a chart or in an outline to make certain that I have the sequence of events straight.

Then, on my way home from the health club, I had a second "

Aha!

" moment. I realized the most likely reason why Bruce Ivins would repeatedly sneak into the Animal Resources (AR) Division hallway through the door from Bacteriology Suite B5. I'd aways thought it might have something to do with test animals that were kept there. But, NO, that is

not

the reason.

The most likely reason Bruce Ivins would sneak into the AR hallway was because

he could see into Suite B3 from there through the window in the crash door

. He could see if the person checking on the mice (or any other animals) was still in Suite B3.



The Animal Resources Division corridor is outside the "crash door" which cannot be opened without setting off alarms.

We don't know if all the lights are turned off when the Suite is empty. But, it seems likely that the lights in the animal rooms would be turned off when no one is in the rooms at night. So, through the "crash door" window, Ivins could see if someone was in the animal rooms, and probably anywhere else in Suite B3 all the way to the change rooms.

Here again is Bruce Ivins' in-out log data for September 30, 2001:




Analyzed and explained:



9:53 -

Ivins enters Building 1425

9:55 -

Ivins enters the Bacteriology Division Corridor

9:55 -

Ivins enters the Men's change room B301 to take off coat

9:56 -

Ivins leaves the Men's change room B301.


Ivins goes to Suite B5, which has no key card reader.

Ivins uses the back door of B5 to sneak into the AR corridor.

From the AR corridor he looks through the crash door into Suite B3.

He probably sees that Pat Fellows is still in B3

10:06 -

Ivins leaves the Animal Resource Division and probably goes to his office

10:34 -

Ivins again enters the Bacteriology Division Corridor.


Ivins again goes to B5, he again sneaks into the AR corridor

Ivins again looks into Suite B3. This time he sees no one is in B3

10:39 -

Ivins leaves the AR Division.


10:39 -

Ivins again enters the Bacteriology Division Corridor


10:40 -

Ivins enters the Men's change room B301


10:44 -

Ivins enters the airlock to get into the BSL-3 part of Suite B3 & his lab


Ivins does work related to making anthrax powders

12:02 -

Ivins leaves B3 (according to the FBI)



Interestingly, this "finding" was partly spawned by an argument that "Anonymous" tried to start. He found a document HERE which says that the mice were kept in room B-305. And he was upset because I stated in my Sunday comment that the mice were "most likely in Room B-305

(or B-310)

of suite B3." He promptly filed an FOIA request with USAMRIID to find some additional proof that the mice were kept in B305 as he insists, and there was absolutely no reason for me to even suggest that B-310 might have been where the mice were housed. But, the only reason I suggested it was because of what BRUCE IVINS reportedly told the FBI.

Page 26 in FBI pdf file #847443 HERE

describes a look into Bacteriology Suite 3 (B3) that Ivins provided to some FBI agents in February 2003. It says:





Ivins pointed out the B3 cold room as being on the right side of the hallway

when looking through the crash door

, with a black box on the door. Room 308 is the pass through to suite B4.

The mouse animal room is the third door down on the right when looking through the crash door.

The guinea pig room is across the hall with the cleaning supplies for the suite located to the right of the door as the room is entered."




As can be seen from the floor plan above, when looking through the window in the "crash door," the first door on the right inside suite B3 is B-308 which connects to Suite B4, as the FBI report says. The second door on the right is B-309 which was Pat Worsham's lab.

The third door on the right is B-310, which according to the FBI recalling what Ivins told them, is

the mouse room

.

So, maybe "Anonymous" can argue that

Ivins was lying

when he told the FBI agents that room B-310 was the mouse animal room, and it's really B-305.

But, either way, it was the rant by "Anonymous" that reminded me that people can see into Suite B3 from the Animal Resources corridor by looking through the window in the crash door. And that seems to be the best explanation for why Ivins sneaked into the AR corridor.

No beliefs. No opinions. Just evaluating the facts, ma'm.

Better interpretations of the facts are always welcome - if anyone has any.

December 3, 2013 (A) - I didn't work on my novel at all yesterday -- except to do a lot of thinking about it. What I have so far ends with setting up a confrontation between the villain's henchmen and the FBI, ATF and the U.S. military in a farm field outside of Washington, D.C. The idea was that the villain would escape the confrontation and there would be a separate,

final

confrontation between the villain and the heroes of the novel somewhere within the city of Washington, D.C. But, now I'm seriously thinking that

both

confrontations should take place inside Washington, D.C. It would be

much

more dramatic. I just need to figure out how to make that work.

Meanwhile, as usual, I'm also arguing with "Anonymous" on my interactive blog. Or, more accurately, I'm trying to get him to argue

intelligently

instead of constantly changing the subject and throwing up "smoke screens" of meaningless documents.

I presented him with some

solid facts

, which he is just ignoring. I explained those facts in my Sunday comment, but maybe I should go into more detail here about what those facts truly say and mean. The best way to do that might be to explain what the FACTS say for just one particular day. I'll use September 30, 2001. Here is the claim "Anonymous" made on November 30, 2013:



Under the Mice Protocol, The Animals Were Challenged In B-305 (which is in Suite B3) ;

Under This Protocol, Dr. Ivins Was In The B3 Those Nights

The AUSA And Investigators Mistakenly Suggested He Had No Reason To Be In That Biolevel-3 Lab


Here are the times the mice were supposedly checked (obtained from Lew Weinstein's blog HERE which comes from page 3 of the pdf file for the original document HERE):



This information

undeniably

shows that on Sunday, 30 Sept. the animals (mice) were checked at 11:00, 11:30, 1500 (3 p.m.), and 2200 (10 p.m.) The words "Morning," "Afternoon," and "Evening" are even written in the right margin to make things clear.

And, here are Ivins'

complete

Suite B3 in-out log data for that day (obtained HERE):


| | | | | | |
| --- | --- | --- | --- | --- | --- |
| 9/30/2001 | 21:55:58 | Access Granted | In | B301 IN/M | IVINS, BRUCE E. |
| 9/30/2001 | 21:56:08 | Access Granted | Out | B301 OUT/M | IVINS, BRUCE E. |
| 9/30/2001 | 22:40:19 | Access Granted | In | B301 IN/M | IVINS, BRUCE E. |
| 9/30/2001 | 22:44:33 | Access Granted | Normal | B301 KEYPAD | IVINS, BRUCE E. |
The data undeniably says that Ivins entered the B301 Men's locker room at 21:55:58 (9:55 p.m.) and left less than a minute later. He again entered the B301 Mens locker room at 22:40:19 (10:40 p.m.), changed clothes and entered the airlock into the BSL-3 containment area of Suite B3 four minutes later at 22:44:33. That Suite contains Room B-305 where "Anonymous" says the mice were "challenged."

So, these FACTS indisputably say Ivins was NOT in Suite B3 where the mice were reportedly challenged at

ANY of the times

the mice were checked on Sept. 30. The same can be said for the days prior and after.

These FACTS say,

beyond any reasonable doubt,

that

SOMEONE ELSE

(probably Ivins' assistant Patricia Fellows) was checking on the mice. (It was HER study.)

If that isn't enough evidence, FBI file #847547, page 55, provides Ivins in-out log data for

all of building 1425

for all of Sunday, September 30, 2001:




This data says Ivins entered the building at 9:53 PM. He then entered the corridor that runs along side all of the Bacteriology Division Suites at 9:55 PM. The next in-out data is the same as previously noted. Then the FBI log data says that after Ivins left the B301 men's locker room at 9:56 PM, he evidently went to Suite B5 where there is a door into the Animal Resources Division (AR) that doesn't have a key card reader. It's opened by a key (that no one is supposed to use). That is the

only

way he could EXIT the Animal Resources Division at 10:06 PM without first logging that he had entered.

He exited into the Administrative Area and then about a half hour later, at 10:34 PM he entered once again entered the corridor that leads to the Bacteriology suites. And,

again

he goes through Suite B5 into the Animal Resources Division and

again

exits into AR, this time at 10:39 PM. And within a minute he walks to the entrance to the Bacteriology Division and enters that corridor. Then the log shows the same as the other log data, he entered men's locker room B301 at 10:40 and four minutes later went into the airlock to get into the BSL-3 part of Suite B3. (He didn't leave until after midnight. Handwritten FBI notes on the log says Ivins "Exits @ 12:02 a.m." on Oct. 1st.)

In my web page about Where and When Ivins Made the Anthrax Powders I have floor plans for Building 1425 and for Suite B3 which will clarify what I stated above. I even have charts for August 20, 2001, which show Ivins doing the same thing as he did on September 30, i.e., enter the Animal Resources area via the locked door from Suite B5.

The question now is: How can "Anonymous" continue to claim that Ivins was checking on mice during the hours when he was in Suite B3, when the FACTS

undeniably

show that Bruce E. Ivins was

NOT

in Suite B3 when the mice were being checked.

Moreover, how can "Anonymous" argue that Ivins was checking on rabbits during this time? He cannot even present any evidence of

when

Ivins was checking on rabbits,

where

the rabbits were kept,

or that Ivins did any checking of the rabbits at all!

All he has is an email from October 5
(from email batch 35, page 20)
which shows that Ivins was somehow informed of the

days

when

some

of the rabbits died, and he has Ivins'
notebook #4241
which shows on pages 16-20 that Ivins

didn't know and didn't record

any data of the

times

when the rabbits died. "Anonymous"merely

believes

that Bruce Ivins was checking on rabbits during the time the FBI says Ivins was making the anthrax powders. And, his beliefs are all he needs to be absolutely certain of anything.

And, if anyone has solid evidence showing he is wrong, he'll change the subject -- or he'll produce an endless stream of meaningless documents with no explanation of what he is trying to prove, claim or argue.
December 1, 2013 - I've been trying to work on my new sci-fi novel, but I keep getting interrupted by "Anonymous" posting rants to my interactive blog. Right now, I'm on Chapter 26 of my novel, with 39,100 words written. So, the first version will probably come out to be about 30 chapters and about 45,000 words. I'm at the point where I need to develop a good ending. But, first I feel a need to resolve some issues that "Anonymous" brought up last week.

Up until now, I've been trying to argue with "Anonymous" without forcing him to explain his claims. As a result very little gets resolved, because there's no way to know exactly what he's claiming. For example, he's been using this chart from lab notebook #4583

for years

to argue

something

:


"Anonymous's" version of this notebook chart is on a thread on Lew Weinstein's blog that is dated June 3, 2011, with this subject:

Dr. Ivins' lab notebook establishes that there were lots of dead mice
and dead rabbits

on the precise dates that the prosecutors and investigators speculate, without basis, that Dr. Bruce Ivins was making a dried powder out of Flask 1029 — such as the FBI anthrax expert had done in August 2000 at the request of DARPA His version of that page shows the words "Mouse" in the title and "Rabbit" in the right- most column heading highlighted in blue. It appears that

at that time

it was believed by "Anonymous" that the "rabbit" column represented the results of checking on the rabbits that were undergoing vaccine challenges during the first week of October 2001.

His comment (posting as "DXer') on that same date

only mentions rabbits

. It shows an email from Ivins dated October 5, 2001 (from email batch 35, page 20), which says:



Group A –

24 rabbits

(12 males, 12 females) get PA (50 ug)/Alhydrogel (0.5 mg)/PBS/0.02% formaldehyde at 0 weeks. Challenge (subcutaneous) at 6 weeks with about 100 LD50 Ames spores.

Group B –

24 rabbits

(12 males, 12 females) get PA (50 ug)/Alhydrogel (0.5 mg)/PBS/No formaldehyde at 0 weeks. Challenge (subcutaneous) at 6 weeks with about 100 LD50 Ames spores.

Group C –

4 rabbits

(2 males, 2 females) get PBS/Alhydrogel (0.5 mg) at 0 weeks. Challenge (subcutaneous) at 6 weeks with about 100 LD50 Ames spores.

2) Results so far, 3 days after challenge:

Group Survived/Total

A – Vaccine plus formaldehyde 24/24 (no deaths)

B – Vaccine minus formaldehyde 16/24 (8 deaths)

C – Controls 0/4 (4 deaths)


But, now it appears that the chart only represents the results of tests done

on mice

by someone other than Ivins

. Notebook #4583 was used by Ivins

and someone whose name is redacted

on the cover and inside the notebook. (In a comment on Lew Weinstein's blog today, "DXer" appears to claim that person was Ivins' assistant Patricia Fellows, but his post is very cryptic. The form at the top of the thread indicates

only

the other person would "monitor the animals.") In the notebook page prior to the chart (page 2 of the pdf file), there is a comment: "After discussing this with Bruce Ivins, I've decided to repeat the experiment with some changes." So, it's clear that part of the notebook was

not

written by Ivins. And the last line on that page says: "Results from the second passive

mouse

expt. are found on the next page." The next page has the graph.

What I noticed when this chart was brought to my attention in 2011 was that it appeared that

Ivins was not in Suite B3 during the times the animals were checked

. I accepted the implication from "DXer" that the chart represented Ivins work with animals. Therefore, my conclusion was that Ivins had to leave Suite B3 to check on the animals.

But, now it appears that the chart represents

the other person's

checks on the animals, and those animals were most likely in Room B-305 (or B-310) of suite B3. So, it really says

nothing

about what Ivins was doing. But it seems to say that the other person was coming into Suite B3 at night to check on the mice. Unfortunately, we don't have any in-out records for when that other person entered B3 to check on the mice. We just have this comment from page 34 of the Anthrax Investigative Summary:



Building 1425

: There were 14 people who had access to the hot suites where RMR-1029 was created and stored in September and October 2001 – the relevant time period leading up to the mailings. Except for Dr. Ivins, all of these individuals visited the lab only during standard works hours, with a few limited exceptions.

Each person who went into the lab at off-hours had legitimate and demonstrable reasons to be in the hot suites at the times they were there. None of these people was alone in the lab for the lengthy period of time required to grow, harvest, purify, and dry the spores and to load the letters under a protective hood. A comparison of the off-hours of Dr. Ivins to those of these other researchers reinforces the conclusion that Dr. Ivins's hours were suspicious.


But, while I thought that Ivins' in-out records showed him leaving Suite B3 to check on the animals, it now appears that the in-out records show that Ivins left Suite B3 (or made a point of

not being in

Suite B3) whenever the

other person

was checking on the mice. On my interactive blog I posted this (corrected to eliminate references to rabbits):



27 Sept. - Mouse check at 1:30 p.m.
In-out log says Ivins left B3 at 12:03 p.m.

28 Sept. - Mouse check at 8:30 a.m.
In-out log says Ivins did not use keypad to enter B3 until 1:48 p.m.

29 Sept. - Mouse check at 11:30 a.m.
In-out logs says Ivins doesn't use keypad to enter B3 until 8:22 P.M.

29 Sept. - Mouse check at 10 p.m.
In-out logs say Ivins left B3 at 9:42 p.m.

30 Sept. - Mouse check at 11 and 11:30 a.m.
30 Sept. - Mouse check at 3 p.m.
30 Sept. - Mouse check at 10 pm.
In-out log says Ivins doesn't use keypad to enter B3 until 10:45 p.m.

01 Oct. - Mouse check at 8:30 a.m.
In-out logs say Ivins doesn't enter B3 until 8:40 a.m.

01 Oct. - Mouse check at 1:30 p.m.
In-out logs say Ivins left B3 at 12:30 p.m. and didn't return until 10:19 p.m.

02 Oct. - Mouse check at 1:30 p.m.
In-out logs say Ivins left B3 at 9:40 a.m. and returned at 2:34 p.m.

02 Oct. - Mouse check at 10 p.m.
In-out logs say Ivins left B3 at 8:29 p.m.

03 Oct. - Mouse check at 9 a.m.
In-out logs say Ivins didn't enter B3 until 10:50 a.m.

03 Oct. - Mouse check at 1:30 p.m.
In-out logs says Ivins left B3 at 11:42 a.m. and didn't reenter until 7:32 p.m.

04 Oct. - Mouse check at 1:30 p.m.
04 Oct. - Mouse check at 2:30 p.m.
In-out logs says Ivins entered the B3 area at 2:32 p.m.

05 Oct. - Mouse check at 10 a.m.
05 Oct. - Mouse check at 1:30 p.m.
In-out logs say Ivins first entered the B3 area at 1:35 p.m..



So, in every instance from 27 September through 5 October, Ivins was NOT in Suite B3 when the mice were being checked. This clearly says the checking on mice had nothing to do with his unexplained overtime hours. But, more interestingly, it poses the question:

Why does it appear that Ivins avoided being in B3 when the other person was checking on the mice?

How many times are needed to indicate it was not a coincidence?



We do not have the in-out logs for the other person, but they would sure come in handy to resolve the question of how long it took a person to check on animals. "Anonymous" endlessly and preposterously claims that it would take

two hours

. He uses a comment Mara Linscott made to the FBI about how long it took her when she had to come in

on a weekend

to check on animals. She seems to have said it took two hours

out of her weekend

to drive to USAMRIID, to go into the lab, to check the animals, to shower and decontaminate, to leave the lab, and to get back home again. But, "Anonymous" interprets it to mean it ALWAYS took two hours to check on test animals,

even if you are already working inside B3 where the animals are located

.

If we had the in-out logs for the other person, we could see how long he had to be in Suite B3 at night (and day) to check on the mice. But, I don't really care enough to want to resolve the question by trying to get that information from USAMRIID via an FOIA request. (And I tend to doubt that they'd give it to me anyway, since the other person is an innocent bystander and it would provide information about that innocent bystander.)

"Anonymous" mostly argues that Ivins was tending to 52

rabbits

in the evenings during the first week of October 2001. But, he provides NOTHING to PROVE that Ivins was doing

anything

with rabbits

that required overtime

during that week. He constantly refers to notebook #4241 as if it proves something. But that notebook only has question marks under the columns created to show the dates the rabbits died (see pages 16-20).

He refers to a protocol which says: "Ivins will

help

immunize and challenge the rabbits." But who is he helping? Veterinarians? Animal handlers? And why would anyone immunize animals at night?

Did veterinarians and animal handlers also enter Suite B3 at night? Did they do any of the work that "Anonymous" claims was all done by Ivins?

And, all this is about checking on animals around the time Ivins was preparing anthrax powders for the

SECOND

mailing. It says

absolutely nothing at all

about his unexplained time in his lab prior to the

FIRST

mailing.

So, what is my point with all this? I guess my point is that I'm tired of arguing with "Anonymous." I've got a novel to write. But, I also know that if I stop arguing, he'll claim it is because I have no valid response to his claims. So, I'm just going to have to demand he provide evidence and explanations of the evidence, instead of constantly bringing up irrelevant matters which prove

nothing

. The mouse chart proves NOTHING. Notebook #4241 proves NOTHING. The protocol for the rabbit challenges (#B01-11) proves NOTHING. If he believes any of those documents proves something, he's going to have to explain WHAT it proves and HOW it proves it.

That's the plan, anyway. The problem is: once in a great while, "Anonymous" provides something interesting, like a link to a CIA "Analysis Training Handbook" found HERE.

It looks

very

interesting. But when will I find time to read it?

A quick glance found this on page 9 of the pdf file (page 4 of the handbook):



[A] Review [of a finding] shouldn't take place in a vacuum.

When major differences emerge

and you feel your objectivity is being threatened, you should meet with the reviewer to

justify your conclusions

.

You must be prepared to discuss how you arrived at your judgment,

what your evidence is, and what alternative conclusions you rejected and why

.

Try to understand the logic in the reviewer's explanation of why he or she is challenging your analysis.


That's the way I believe I do things. I lay out the facts and explain how those facts caused me to arrived at a conclusion or hypothesis. That certainly is NOT the way Anthrax Truther do things. They cannot explain how they arrived at their conclusion. The cannot explain what their evidence is or what it means. They cannot explain why they reject alternative conclusions. They do not try to understand the other's point of view and why he or she is challenging the Anthrax Truther's analysis.

That's why they're called "Truthers." They know "the Truth," and they cannot be bothered with explaining their reasoning to people who challenge "the Truth" and thus must be too ignorant to understand or even see "the Truth" that "Truthers" see.


Updates & Changes: Sunday, November 24, 2013, thru Saturday, November 30, 2013


November 26, 2013 - Damn! I awoke this morning full of story ideas and anxious to get back to work on my book. Then I saw there were 7 or 8 posts to my interactive blog by "Anonymous" (one appeared to be a duplicate, and I deleted it), and later he sent me three

emails

. None said anything of value, but I spent

hours

digging through documents to see if I could find any point to them all, other than that he believes that if there was work to be done, Ivins must have done it during those "unexplained" hours Ivins spent in Suite B3 when the DOJ (and the facts) says he was making anthrax powders.

The one FACT "Anonymous" argued that I could check out turned out to be

an error on his part that he made before

. He wrote:


On
October 4, 2001, at 9:57 P.M
., a time when the FBI speculates that Bruce Ivins was making a dried powdered anthrax, he sent an email explaining he had been reading the news on the internet; he offered a possible explanation about Mr. Stevens' illness identical to that accepted by the CDC regarding a recent case of inhalation anthrax contracted in 2011 by another man from Florida
And he provided a link to Lew Weinstein's web site where there's a thread that says the same thing. That thread is dated November 7, 2011.

It's

nonsense,

of course. According to my web page on where and when Ivins made the anthrax powders, on October 4, 2001, at 9:57 P.M, Ivins was

NOT

in his B3 Suite:


Date (2001)
(evenings only)

Time in




Building 1425

Time in


Bacteriology
Division

Time in




Suite B3 (approx)

October 4

6:10 - 6:55
7:22 - 10:12
6:19 - 6:55
7:23 -

9:34


10:07 - 10:12
6:21 - 6:55
7:25 -

9:24

According to the in-out logs,

Ivins went through the airlock in Suite B3 at 9:24 PM and (after probably spending 10 minutes in the locker room) left the Bacteriology division at 9:34 PM

, but he did not leave the building. Since he sent out an email at 9:57 PM, it can be safely assumed that he was in his office using his computer there. The logs also show that he re-entered the Bacteriology Division a 10:07 PM, but he did not go through the airlock into Suite B3. So, he apparently only changed clothes in the locker room. Then, five minutes later, he left the Bacteriology Divison

and

building 1425 at 10:12 PM.

And, if you check my (A) comment for November 7, 2011, you'll see I explained the s

ame error

by Anthrax Truthers back then. But, "Anonymous" doesn't recall any evidence that disproves his beliefs. He didn't correct the error. He just brings up the same augument again as if he wasn't proved to be totally wrong

two years ago

.

And I've just wasted the

entire morning

arguing with him about it!

November 24, 2013

-
Last week provided no "news" of any kind about the anthrax attacks of 2001. That's fully understandable, since the attacks happened more than 12 years ago. But, last week also showed me that there are some nearly forgotten things about the case that need remembering.

Last week, "Anonymous" on my interactive blog tried to make some kind of point about the evening of September 25, 2001, when Bruce Ivins spent a few overtime hours in his lab cleaning ceiling light covers. "Anonymous" has been arguing endlessly for

over two years

that Ivins had totally

valid

reasons for being in his lab at night (specifically to tend to 52 rabbits being used in vaccine tests), and therefore the claim by the FBI that Ivins was spending that unaccounted-for time making anthrax powders is

invalid

.

During those two years, "Anonymous" hasn't been able to provide

any

meaningful evidence

of any kind

that Ivins spent any significant evening or weekend time tending to rabbits instead of making anthrax powders. Then, apparently without understanding what he was talking about, last week he made a point that on the night of Sept. 25th, Bruce Ivins had

a valid and documented reason

for being in his lab at night, and it did NOT involve making anthrax powders.

Since he pays no attention to any facts which do not help him prove his own theory, he neglected to notice that Ivins' work on the evening of Sept. 25 helped to show that, while Ivins had good reason to work overtime that night, he also had

no reason to be making anthrax powders that night

.

In my web page about when and where Ivins made the anthrax powders, I show that the night of the 25th stands out like a tree in a desert, because it was

between mailings

, when Ivins was

waiting

for his first set of anthrax letters he'd mailed to have their effect:




The chart above illustrates that Ivins finished making the powders for the media letters on the 16th of September. The facts say that, on the night of Monday, Sept. 17th Ivins drove to Princeton and mailed the anthrax-filled letters to Tom Brokaw, Dan Rather, Peter Jennings, the New York Post and the National Enquirer. So, he was NOT in his lab that night. He was

not

checking on rabbits. He was

not

making anthrax powders.

And he had no reason to go into Suite B3 the next night, either. Or the next. Or the next. Why?

Because he was waiting to see what effect the anthrax letters would have.



For

ten days

, he had no reason to go into his lab during off-hours -- except on the 25th, when his new boss told him to clean up his lab.

He waited

ten days

to see what kind of panic his first mailing would create. But, there was absolutely

nothing

in the news about any anthrax letters.

So, on Sept. 28th, the chart shows he went to work on making a more refined powder to put into a

new

set of anthrax letters. The chart shows he finished that work on Oct. 5. The facts say Ivins again drove to New Jersey and mailed the two letters to Senators Daschle and Leahy on the 6th or 7th. Then, according to the chart, he once again sat around waiting for the reaction to what he'd done.

Because of the Columbus Day holiday, it took awhile for there to be any reaction to the second mailing. While he waited, he had little or no reason to go into his BSL-3 lab.

The chart shows it is absolutely clear that Ivins was

NOT

tending to any rabbits in the evenings

during

either

waiting period

.

If Ivins needed to work evenings to tend to the 52 rabbits during "early October" as "Anonymous" endlessly claims, and that explains his overtime hours. What explains the waiting periods

after the mailings

when Ivins did NOT go into his lab?

Why didn't he need to tend to the rabbits during those periods?




The waiting periods aren't part of the DOJ's case against Ivins. Only the unexplained overtime hours are part of the evidence. "Anonymous" claims that Ivins was doing

normal

work during that period. But, if
"Anonymous" claims that Ivins was tending to rabbits during some vague period around that time, is it too much to ask that he show us

documentation

proving an alternative explanation for what the above chart shows?



Why did Ivins have to tend to the rabbits ONLY during the time the FBI (and the chart) says he was making the anthrax powders, and why

didn't

Ivins have to tend to the rabbits during the time the chart says Ivins was

NOT

making powders, when Ivins was just waiting around for his anthrax letters to be delivered and cause panic?

Clearly, "Anonymous" is going to believe what he wants to believe regardless of what any facts say. And, anyone who won't

help

"Anonymous" find facts to prove his beliefs is just ignorant and uninformed and prefers to stay that way. "Anonymous" knows "the truth." It's not his job to explain "the truth" to others. If the others prefer to accept the mountain of evidence provided by the FBI and the Department of Justice showing Bruce Ivins was the anthrax killer, well .... that just shows how uncaring and ignorant some people can be. And, it appears "Anonymous" is getting fed up with all the people who refuse to accept his beliefs, since he posted this yesterday on Lew Weinstein's blog:

The strain Al Qaeda was using is still classifed and withheld.
I'm telling you — plain and simple — that Al Qaeda was using the virulent Ames strain and there cannot be continued delay in having that declassified and made known.
To let some government bureaucrats hide that fact from the public just because they thought they would get in trouble for negligently allowing the Fall 2001 anthrax mailings to occur is wrong.
FBI, CIA, USAMRIID, DIA, DARPA, the Joint Chiefs — people are either part of the problem or part of the solution.
On the merits of the cotton candy "Ivins Theory," Vahid Majidi and others are still actively playing hide-the-ball.
For example, as recently as September 2013, Vahid Majidi knowingly failed to correct themselves on whether Dr. Ivins had reason to be in the lab.
After years of withholding the documents relating to the 52 rabbits for years they now just pretend not to know about them.
The issue is far too serious to suffer fools gladly.
Declassify and disclose the strain that Al Qaeda was using NOW.
That appears to be a

direct order

from a True Believer.

And, since "DXer" (a.k.a. "Anonymous") understands

nothing

about logic or criminal investigations, he would never understand why the FBI would not and

should not

release such information.

Now for something off-topic: Yesterday, I decided to go back to the old-fashioned way of doing things. (See my Nov. 6 comment.) I removed the Compact Fluorescent Lamp (CFL) from my kitchen and replaced it with an old-fashioned 60-watt light bulb. It was either that or go out and buy a "Bright From the Start" CFL. And, I have about a dozen 60-watt bulbs stored in a closet, so there was no justification for buying anything new.

I have no problem with the other CFLs that were installed in my apartment as part of the scheme conjured up between my landlord and "Focus On Energy," but the CFL they put in the kitchen ceiling light was just too much of an annoyance. There are just too many times that I would go into the kitchen for just a second or two, and while there, I wanted more light than the dim glow given off by a CFL during its initial warm up period.

To get more light, I'd started turning on the chandelier over the dining area table

instead

of (and sometimes

in addition to

) the kitchen ceiling light. The chandelier has

FIVE

flame- shaped light bulbs (NOT-CFLs) in it.

There's nothing and no one

forbidding

me from changing the bulb and going back to the old-fashioned type. I pay for the electricity I use, so I'm the one losing money (or gaining money by not using the chandelier). Truthers can call me a "rebel against progress" or say I'm "stuck in the past," but I gave that particular CFL a two-week try, and it was more of an annoyance than it was worth in energy savings. The other CFLs are no problem. So, Truthers can also claim I'm "inconsistent."


Meanwhile, in case anyone is interested, I'm on page 164 of my new novel, with 34,300 words written so far. It's beginning to look like the first draft won't reach 60,000 words. But, it's the second draft where all the details are filled in. And, details use lots of words.


Updates & Changes: Sunday, November 17, 2013, thru Saturday, November 23, 2013


November 22, 2013 - Since everyone is remembering John F. Kennedy today, I suppose it's appropriate for me to mention where I was when I learned that President Kennedy had been shot. I was getting ready to work the midnight shift at an airbase in Northern Japan. I turned on the radio to listen to music while getting dressed, and the Armed Forces Radio station was talking about the shooting in Dallas.

I banged on the door of my sergeant's room. Through the door, obviously still in bed, he asked what was wrong.


"President Kennedy has been shot," I told him.
"So what do you want me to do?" he asked.
I thought for a second, then said, "Remember who told you about it."
Someone in another room had heard me and called, "Is he dead?"

"I don't know. I think so," I replied.

The radio was on when I got to the weather station. So everyone there already knew about it. No one said much.

In town the next day, the Japanese people I knew treated me as if I'd just lost a father or brother. They seemed more saddened by it than most of the Americans I knew.

A few days later, I bought a copy of a Japanese magazine with a cover story about the assassination. I think I still have it in a box in some closet.

And that was about it. I don't think I ever mentioned any of that to anyone before. But, it's now part of the record -- for as long as Internet archives last.


I should also mention that I actually saw JFK once. He was sitting atop the back seat of a convertible as he drove through the streets of Kansas City, MO, while compaigning against Nixon. And, I actually

saluted

Vice President Richard Nixon when his plane landed at Chanute AFB, near Rantoul, Illinois a month or two earlier.

November 21, 2013 - These days, the news on the Internet is really filled with articles about conspiracy theories. Mostly they're about theories related to the assassination of President John F. Kennedy, which occurred fifty years ago tomorrow. A story in USA Today is about a conspiracy theory that Lyndon Johnson was behind the assassination. Another article on CNN.com has a video showing the interview Lee Harvey Oswald did with the media

after

the assassination. The article I find most interesting is a different one on CNN.com. According to that article, author Vincent Bugliosi claims that at one time or another, doubters of the lone gunman theory "have accused 42 groups, 82 assassins and 214 people of being involved in the assassination." That sounds about right to me.

The article also mentions a supposed "anti-conspiracy guy" named Dave Perry who spends his time

debunking

the skeptics and conspiracy theorists:


Perry, a
70-year-old retired former insurance claims adjuster from Massachusetts
, has been digging through JFK assassination records since 1976 to address those skeptics. ....
"I don't do the sexy stuff," Perry said. "I don't come out and say, 'I know who the Grassy Knoll assassin is!' I'm the guy that goes into the county records building and looks up deed records. Most people don't get too wound up over that." .....
Perry guesses he spends a "couple hundred hours" each October and November doing research and consulting. After all that, you can imagine he's heard a lot of theories.
According to Perry, the most popular JFK conspiracy theories are:


1. "LBJ had it done"
2. The "military industrial complex" did it
3. "The mob" did it
4. "Oswald acted alone as part of an unknown conspiracy"
5. "The CIA did it"
Perry evidently hasn't totally debunked #4. He still wonders about the theory that the Russians had something to do with the assassination, since Lee Harvey Oswald visited the Russian embassy in Mexico City a few weeks before the assassination.

Maybe he needs to spend more time trying to get conspiracy theorists to explain their theories and less time trying to prove that vague theories cannot possibly be true. How do you prove the Russians were NOT involved? I wouldn't even try. I'd demand that the conspiracy theoriests prove that the Russians WERE involved. And, until they do so, I'll just consider it another unproved theory believed by people who want to believe that there was some kind of conspiracy or that the government is incompetent and can't perform any kind of thorough investigation.
Another totally unrelated story in the news that I find a lot more interesting than JFK conspiracy theories is the one about the Boeing Dreamlifter that landed at the wrong airport in Kansas last night. The gigantic aircraft ideally requires a runway at least 9,000 feet long to take off, and it landed at an airport that has a runway only 6,100 feet long. Here's a picture of a couple Boeing Dreamliners:
They've brought in a new (presumably more experienced) crew, the plane is nearly empty of fuel, and the weather conditions are good, so, they're going to try to take off at noon today to fly the 8 miles to McConnell Air Force Base near Witchita, where the Dreamlifter was supposed to have landed in the first place.



The incident is of particular interest to me because, one night many years ago, I was at my weather observer desk in the tower at Richards-Gebaur Air Force Base near Kansas City, Missouri, when a plane

that was supposed to be landing there, landed instead at a Olathe Naval Air Station in Kansas, about 25 miles away.

I vividly recall the tower operator speaking the plane's call sign and asking,


"What is your location?"
"We just touched down," the pilot answered.
"Not at this airfield you didn't," the tower operator said.

By that time I was on my feet and looking for the plane, too. The tower operator changed frequencies and called the tower at Olathe. Yes, indeed, the plane had landed there and they were trying to contact it. It was all over in a matter of minutes. The plane took off again and flew to Richards-Gebaur where they had some "esplaining to do".

UPDATE at 2:50 p.m.: According to CNN, the Dreamlifter took off from the small airport this afternoon without incident and landed a few minutes later at McConnell AFB where it was originally supposed to land.

November 18, 2013 - On Saturday, I set my DVR to record a made-for-TV movie called "The Challenger Disaster" on the Science Channel. I watched it last night. (There are reviews in The New York Times, The Washington Post, and The Los Angeles Times. It's going to air again three times tonight. This week's schedule is HERE.) The movie was based upon Dr. Richard P. Feynman's book about his work on the commission that investigated the Challenger disaster, "What Do You Care What Other People Think?"

I thought it was a very good and very interesting movie. It says a lot about using logic and reason to find the answers to questions while ignoring opinions, beliefs and pressures all around you. Plus, Dr. Feynman was a hero of mine.


Here are some of his more famous quotes that definitely apply to my arguments with Anthrax Truthers:


It doesn't matter how beautiful your theory is, it doesn't matter how smart you are. If it doesn't agree with experiment, it's wrong.
The first principle is that you must not fool yourself and you are the easiest person to fool.
I believe that a scientist looking at nonscientific problems is just as dumb as the next guy.
In my library, I have a hardback copy of his book about the Challenger disaster, which I read years ago. But, I

really

liked the book he wrote earlier, "Surely You're Joking, Mr. Feynman!" I have a heavily underlined paperback copy in front of me as I'm writing this. It's interesting that so much of it applies to my arguments with Anthrax Truthers, particularly
when Dr. Feynman discussed what he

learned

while he was teaching physics classes as a professor at Princeton
. Here's a paragraph I underlined on page 23:


I don't know what's the matter with people: they don't learn by understanding; they learn by some other way -- by rote, or something. Their knowledge is so fragile!
From page 192:


After a lot of investigation, I finally figured out that the students had memorized everything, but they didn't know what anything meant.

From page 193:

So, you see, they could pass the examinations, and "learn" all this stuff, and not

know

anything at all, except what they had memorized.
And from page 194:


One other thing I could never get them to do was to ask questions. Finally, a student explained it to me: "If I ask you a question about the lecture, afterwards everybody will be telling me, 'What are you wasting our time for in the class? We're trying to

learn

something. And you're stopping him by asking a question'."
It was a kind of one-upmanship, where nobody knows what's going on, and they'd put the other one down as if they

did

know. They all fake that they know, and if one student admits for a moment that something is confusing by asking a question, the others take a high-handed attitude, acting as if it's not confusing at all, telling him that he's wasting their time.
I explained how useful it was to work together, to discuss the questions, to talk it over, but they wouldn't do that either, because it would be losing face if they had to ask someone else.


And from page 224:


I can't understand anything in general unless I'm carrying along in my mind a specific example and watching it go. Some people think in the beginning that I'm kind of slow and I don't understand the problem, because I ask a lot of those "dumb" questions.

One great thing about this Internet Age is that if you want to listen to Dr. Feynman's lectures or hear him speak on some topic, you can just go to
YouTube.com
, do a search for "Richard P. Feynman" and then spend hours listening to him talk about how dumb he is about certain subjects, about all the mistakes he's made in his lifetime, and how he seems to view things from different angles that most other people. Click HERE, HERE, HERE, HERE, HERE, and HERE for a few examples. And, it even appears that you can

listen

to his book "What Do You Care What Other People Think?" by clicking HERE. There are

dozens

of videos.

If only there were more than 24 hours in a day!

And if only there were some way to get Anthrax Truthers to understand what Richard Feynman was saying about

The Pleasure of Finding Things Out

, instead of doing as Truthers always seem to do: Truthers start with a belief and then look only for opinions and theories they can use to argue that their belief is correct. Facts mean nothing. And anyone who disagrees with them is simply

assumed

to be wrong.

November 17, 2013

- Last week,

I spent way

way

way

too much time arguing with "Anonymous" on my interactive blog. It's like arguing with my TV set. "Anonymous" just endlessly spews out his beliefs and claims, and nothing I say in response means anything to him. Worst of all, he seems totally incapable of

explaining

anything to support his claims. Like a TV, he just rambles on and on and on and on and on and on and on and on. His current favorite topic is how I am imperfect and how I sometimes make mistakes. When I point out his mistakes, he then changes the subject.

But, like a TV, sometimes he says something interesting. In one post, he brought up an opinion poll I conducted in June 2002: "ANTHRAX - Who did it?" The poll was conducted on the "alt.true-crime" newsgroup. (The poll can be viewed by clicking HERE, but you may have to click on the arrow inside a circle symbol after the word "authors" which provides "Topic Options," and one "topic option" is "Expand All" which provides the best view of all the responses and comments in the thread.)

Here is what I wrote to initiate the poll:


As far as I know, there has never been an opinion poll on who
Americans think MAILED the anthrax.
Who do you think MAILED the anthrax?
1. An al Qaeda member?
2. An agent of Iraq?
3. A right wing American extremist group?
4. An American scientist acting alone?
5. The CIA?
6. Someone else?
If you are not an American, please mention your country in your
response.

The final tally:
1 vote for Michael Newton (no explanation of
which
Michael Newton)
1 vote for the Roswell aliens
2 votes for Right Wing extremists
1 vote for "an Israeli national"
1 vote for Carl Rove
1 vote for Bill Clinton
2 votes for Al Qaeda
1 vote for my mother
3 votes for an American scientist
1 vote for the band "anthrax"
1 vote for "a Republican researcher"
1 vote for "an anti-abortion terrorist"
1 vote for the CIA.
The "official" conclusion:
"on the Internet when people are asked for their opinion the vast majority prefer to just make wise cracks."

Interestingly, one of the votes for "an American scientist"

appears

to be a vote from "Anonymous" using a different name: "Maurice." "Maurice's" vote incoherently rambles on and on and on the same way "Anonymous" does, and on the same subjects. And, here is how "Maurice" phrased his vote as to who mailed the anthrax letters:
A US scientist recruited by Zawahiri in 1980 who then worked for the US Army where he obtained the Ames strain, who had the means, motive and opportunity.

Presumably, "Maurice" meant a US scientist who worked for the US Army, not that Zawahiri worked for the US Army in 1980. Some quick research indicates that in 1980 Zawahiri was in Pakistan meeting with Osama bin Laden. "Maurice" doesn't explain how Zawahiri could have recruited a US Army scientist with access to the Ames strain if Zawahiri was in Pakistan, but, then, nothing "Maurice"

or

"Anonymous" writes ever make much sense.
"Anonymous" can only

ask

meaningless questions.
Answering questions or explaining his claims seems to be a totally alien concept.

Last week, I created the cartoon below to start a discussion thread for my blog on the subject of reading versus understanding what is read.



The arguments with "Anonymous" prevented me from getting much done on my new sci-fi novel, but I'm at a transition point in the book, and I may need to pause to figure things out before I go much further. The main characters are now in Washington D.C. and ready to use their "gizmo" invention to help solve a major crime. But, I haven't settled on exactly what major terrorist crime they are going to help solve. When I'm not arguing with "Anonymous," the old brain is churning over options and ideas like crazy. And there's always the possibility that the arguments with "Anonymous" might suggest or somehow bring about a good idea for the climactic events in the book.

BTW, in case anyone is interested, when I reached the 31% completed point in reading "Across China on Foot," I decided I needed a break from descriptions of the grim life in China in 1910, and I started reading "Roughing It" by Mark Twain, published in 1872. It begins with a stage coach trip Twain, his brother and another passenger George Bemis took from the Missouri frontier to Nevada in 1861, and it's as funny as hell. (The cost for such a trip was $125 per person, with a 25 lb. limit on baggage per person. It also involved changing horses every ten miles.) A couple snippets from "Roughing It":


I was armed to the teeth with a pitiful little Smith & Wesson's
seven-shooter
, which carried a ball like a homoeopathic pill, and it took the whole seven to make a dose for an adult. But I thought it was grand.

and


He wore in his belt an old original "Allen" revolver, such as irreverent people called a "pepper-box." Simply drawing the trigger back, cocked and fired the pistol. As the trigger came back, the hammer would begin to rise and the barrel to turn over, and presently down would drop the hammer, and away would speed the ball. To aim along the turning barrel and hit the thing aimed at was a feat which was probably never done with an "Allen" in the world. But George's was a reliable weapon, nevertheless, because, as one of the stage-drivers afterward said, "If she didn't get what she went after, she would fetch something else." And so she did. She went after a deuce of spades nailed against a tree, once, and fetched a mule standing about thirty yards to the left of it.
Bemis did not want the mule; but the owner came out with a double-barreled shotgun and persuaded him to buy it, anyhow.
It was a cheerful weapon—the "Allen." Sometimes all its six barrels would go off at once, and then there was no safe place in all the region round about, but behind it.

Much of the time during the trip, Mark Twain, his brother and other passengers had to lay atop mail bags that were being carried inside the stage coach because every other storage place in and atop the coach was already full of mail bags:


Whenever the stage stopped to change horses, we would wake up, and try to recollect where we were—and succeed—and in a minute or two the stage would be off again, and we likewise. We began to get into country, now, threaded here and there with little streams. These had high, steep banks on each side, and every time we flew down one bank and scrambled up the other, our party inside got mixed somewhat. First we would all be down in a pile at the forward end of the stage, nearly in a sitting posture, and in a second we would shoot to the other end, and stand on our heads. And we would sprawl and kick, too, and ward off ends and corners of mail- bags that came lumbering over us and about us; and as the dust rose from the tumult, we would all sneeze in chorus, and the majority of us would grumble, and probably say some hasty thing, like: "Take your elbow out of my ribs!—can't you quit crowding?"


Reading "Roughing It" prompted me to check to see if "The Innocents Abroad" was also available for free for my Kindle. It is. So, I downloaded it. And so is "A Tramp Abroad," which I've owned as a hardback for many years, but never read. If or when I get to it, I'll have to decide if I want to read the hardback version or the Kindle version. I never expected to say this, but I'll probably read it on my Kindle.

Busy busy busy.


Updates & Changes: Sunday, November 10, 2013, thru Saturday, November 16, 2013


November 14, 2013 - While I've been

trying

to focus on writing my new sci-fi novel, the Anthrax Truther who calls himself "DXer" on Lew Weinstein's blog has been posting numerous posts as "Anonymous" to my interactive blog. For some unclear reason he has suddenly started to emphatically argue

once again

that the so-called J-Lo letter sent to Jennifer Lopez c/o The Sun magazine in September 2001 contained anthrax. The #1 basis for such a belief is the CDC report from October 2002 which said,


The index patient's [Bob Stevens'] infection most likely occurred from inhalation of B. anthracis spores following a primary aerosolization, i.e., spores released into the air after opening a spore-containing letter. This scenario is consistent with co-workers' recollections that the index patient held a letter containing powder over his computer keyboard, as well as environmental samples showing contamination at his keyboard, an incoming-mail desk near his workspace, and his mailroom mailbox.


Perhaps the deluge of postings from "Anonymous" were caused by my Nov. 4 comment about sending an FOIA request to the FBI asking for the findings from the FBI's search of the AMI building in August and September 2002 so that I could counter what the CDC said was "most likely" with what the FBI presumably says is "most likely."

But, yesterday "Anonymous" also added a different argument:

In a message HERE "Anonymous" posted this:


The CDC documents explain that the reason they knew there were two letters is because they took different routes through the post offices.


In a message HERE "Anonymous" posted this:


Ed Lake isn't even aware of the CDC finding that the fact that there two letters was evidence by its extensive sampling of the post offices showing two distinct trails.


Since his claims seem to be total nonsense, I asked "Anonymous" for the source for such findings by the CDC.

Where

did the CDC say that? He wouldn't tell me. Instead, he ridiculed me for not knowing where to find the those "findings."

As far as I can tell, the CDC never said any such thing. The claim appears to be the result of

screwball interpretations

by Anthrax Truthers of a chart produced by the CDC which shows that post office samplings indicate that the anthrax letter to AMI could have taken either of two routes between Palm Beach and Boca Raton. Here's the chart (click on it to view a much larger version):



In the lower left quarter the chart shows that anthrax spores were found at the Blue Lake, FL, post office, which

could

indicate the anthrax letter went from West Palm Beach to Blue Lake and then to Boca Raton.

Or

, the Blue Lake post office could have simply handled mail bags or letters that were

cross-contaminated

with anthrax. That same part of the chart also shows that anthrax spores were found at the Green Acres, FL,

and

Lake Worth, FL, post offices, which

could

indicate that the anthrax letter went from West Palm Beach through Green Acres, through Lake Worth and then to Boca Raton.
Or

, the Green Acres Post office and the Lake Worth post office could have simply handled mail bags or letters that were

cross-contaminated

with anthrax.

In

no way

does the chart show that there were two letters, much less prove such a thing. But Anthrax Truthers have apparently been interpreting the chart that way.

Unfortunately, it's extremely difficult to get an Anthrax Truther to explain himself. They seem to know explanations can expose their lack of logic and lack of facts.


However, yesterday, someone posting as "Anonymous" (probably "DXer," but possibly someone else posting as "Anonymous"), provided a link to something very interesting on the CDC's web site. It's an incomplete "Review of Fall 2001 anthrax attacks" by physicist Dr. Wm. Robert Johnston, last modified on 17 March 2005. "Anonymous" also provided a link to a 28 September 2007 updated version on Johnston's own web site. Johnston's incomplete report was cited by the CDC and the National Academies on page 192 of their October 2006 report titled "Respiratory Diseases Research Program." Here is the information from Dr. Johnston used by the CDC:


In 2001,
seven anthrax-contaminated letters
(investigators recovered four and
presumed three others
) sent through the U.S. Postal Service (USPS) killed five people and infected at least17 others with inhalational or cutaneous anthrax (A6-45)
"Seven anthrax-contaminated letters" would NOT include the J-Lo letter, since the J-Lo letter would make eight in total and four that were not found.

To avoid any incorrect interpretation, Dr. Johnston's report contains this table:


Table 2: Known and presumed anthrax letters
letter
date mailed
date recovered
target
resulting cases (by CDC #)
1
9/18/01
not recovered
AMI, FL
4, 8
5
2
9/18/01
(9/20/01)
NBC, NY
2, 6
3
9/18/01
not recovered
ABC, NY
7
4
9/18/01
not recovered
CBS, NY
9
5
9/18/01
(9/22/01)
NY Post, NY
1, 18, 20
6
10/9/01
10/15/01
Daschle, DC
13, 14, 15, 16
10, 11, 12
7
10/9/01
11/16/01
Leahy, DC
19, 22
unknown
3, 17, 21
So,

according to the CDC

and Dr. Johnston, there was only

ONE

anthrax letter sent to AMI. It was "not recovered." It infected Ernesto Blanco (#4) and Bob Stevens (#8). Furthermore, the CDC's chart shows the anthrax letter sent to Florida was transported by truck and left a trail of anthrax spores through numerous post offices. The chart shows that the letter was first sent to the National Enquirer at an obsolete address in Lantana, FL, and then forwarded from there to the Enquirer's new address at the AMI building in Boca Raton.

The

one

anthrax letter sent to Florida
was mailed on 9/18/01, which means

it could not possibly have been the J-Lo letter

which was opened at AMI the next day, 9/19/01.

The anthrax letter that killed Bob Stevens was addressed to the National Enquirer in Lantana, while eye witnesses say the J-Lo letter was addressed to Jennifer Lopez, c/o the Sun magazine at the AMI address in Boca Raton, FL. There's no logical reason for the J-Lo letter addressed to the Sun to have been misdirected to Lantana.

This information comes via an October 200

6

CDC report, which should supersede any CDC report from October 200

2

.

By any measure, this should put an end to any claim that the CDC

still

says there were two anthrax letters set to Florida and that the J-Lo letter was one of them.

But, I suspect the Anthrax Truthers will disagree because they

believe

they "know" the "truth" even if the facts say that what they

believe

is total nonsense.


November 13, 2013 - Discussions with an Anthrax Truther on my interactive blog have found some additional "evidence" helping to prove that Bob Stevens was killed by anthrax spores in the letter opened by Stephanie Dailey on Sept. 25, 2001, and

NOT

by exposure to the so-called "J-Lo letter" opened by Bobby Bender on Sept. 19:


1. The normal period beween exposure to anthrax spores and the onset of symptoms of infection is 7 days or less.
2. The older a person is, the more susceptible the person seems to be to anthrax. Bob Stevens was 63.

3. On Sept. 19, Bob Stevens held the J-Lo letter up to his face and sniffed it, which would have been a

massive

exposure,

IF

the letter contained anthrax.

4. 63-year-old Stevens started to show symptoms of anthrax exposure

eleven days

after he sniffed the J-Lo letter. That makes it

extremely unlikely

that his sniffing the J-Lo letter caused his exposure.

5. Stevens started to show symptoms of anthrax exposure

five days

after he could have been exposed to a few spores from the anthrax in the letter Stephanie Dailey opened. That is well within any "normal" period between exposure and onset of symptoms.

6. Ernesto Blanco was 73 years old in 2001. Three or four days between his exposure to the letter opened by Stephanie Dailey and the onset of symptoms would be "normal." Nine days between a supposed exposure to the J-Lo letter and his onset of symptoms would be extraordinary and almost illogical.


I just modified my web page about the J-Lo letter to show that an eleven day period between exposure and the onset of symptoms for a 63-year-old man who was

massively

exposed to Ames anthrax spores is

extremely unlikely

- almost

illogical

.

November 12, 2013 - Someone just sent me a link to a 7¼ minute YouTube video about the anthrax attacks of 2001 that was taken from a Travel Channel program called "Mysteries of the Museum." Click HERE to view it. Click HERE to view a shorter version (3 mins.) on the Travel Channel's web site.

The YouTube version is most interesting because it

appears

to contain some

new

information

and

it contains a significant error. The "new" information (which may or may not be true) is that the CDC didn't find anthrax on Bob Stevens keyboard while the CDC was taking swabs in the AMI building, they put the keyboard into a shipping container, shipped it to the CDC, and the anthrax was found while checking the keyboard inside a CDC lab.

The error is a statement that the 3:20 mark where the narrator says "the man's keyboard is covered in microscopic anthrax spores."

The facts say that only 2 of 21 samples taken from Bob Stevens' work area tested positive for anthrax. News reports say that "only a single spore was found on the keyboard. " Another news report HERE says the same thing.

Interestingly, the shorter video doesn't mention anything about sending the keyboard to the CDC for testing.

Unfortunately, this doesn't solve anything about the J-Lo letter and whether or not it contained anthrax. But, it makes me hope all the more that the FBI will respond to my FOIA request and provide me with a copy of their report on the search warrant tests they did within the AMI building a year after the CDC did their tests. I'd certainly like to have something

official

that clears up whether or not the J-Lo letter contained anthrax. The FACTS say the letter did NOT contain anthrax. But no one in authority has

officially

said the J-Lo letter didn't (or most likely didn't) contain anthrax.

Anthrax Truthers don't care about facts. They just want someone's OPINION. And currently they rely upon the CDC's OPINION that


The index patient's [Bob Stevens'] infection
most likely
occurred from inhalation of B. anthracis spores following a primary aerosolization, i.e., spores released into the air after opening a spore-containing letter. This scenario is consistent with co-workers' recollections that the index patient held a letter containing powder over his computer keyboard, as well as environmental samples showing contamination at his keyboard, an incoming-mail desk near his workspace, and his mailroom mailbox.

If we had two "authorities" saying opposite things, then it might be easier to get Anthrax Truthers to look at the actual FACTS instead of just using an

opinion

they agree with as their prime argument.

November 10, 2013 (B) - An Anthrax Truther on my interactive blog has actually done some research and found

SOLID FACTS

which answer a question I asked in my November 9 comment:


When Mr. Ross writes that "the perpetrator [of the anthrax attacks of 2001] was never found," is he just

ignorant

of the facts? Or doesn't he

believe

the facts?

The answer is (drum roll, please!): Mr. Sherwood Ross was just

ignorant

of the facts. And

so was I

when I wrote my Nov. 9 comment.

The Truther on my blog did some research and found that the Sherwood Ross article was actually written for the July/August,

2007

, issue of The Humanist magazine, almost exactly one year

before

Ivins was identified as the anthrax killer. So, at that time, Mr. Ross would have been

justifiably ignorant

of Bruce Ivins' role in the crime.

I saw the article dated November 9, 2013 on OpEdNews.com, on MWCnews.net

and

mentioned on a web page about articles relevant to the Homeland Security Department of the U.S. government: USGovernmentPortal.com. It simply didn't occur to me to check further to see if it was an old article being recirculated for some reason. So, I was ignorant of its original publication date. Live and learn. The lesson for today: NEVER trust OpEdNews.com or MWCnews.net, particularly OpEdNews.

Always verify

.

November 10, 2013 (A)

-

In last Sunday's comment, I mentioned that I was going to watch a documentary in the Reelz channel called
"JFK: The Smoking Gun."
Well, I didn't watch it -- not in its entirety, anyway. I watched it as far as the first commercial, about 20 minutes into it. I then decided I wasn't in the mood to go any further. I just couldn't find any benefit to watching a show about a

new

theory that some Secret Service agent

accidentally

killed President Kennedy.

During the 20 minutes I watched, they showed parts of a CBS program I remember from many years ago where they had rifle experts

demonstrate

that Lee Harvey Oswald

could

have fired the three shots in the time he had. The program also debunked the "Magic Bullet" argument by showing that a single bullet

could definitely

have gone through JFK's neck, into Governor Connally's back, out Connally's chest and into his leg. Connally's seat simply wasn't located where the "Magic Bullet" nay-sayers believe it was. It was a jump seat, not a regular car seat.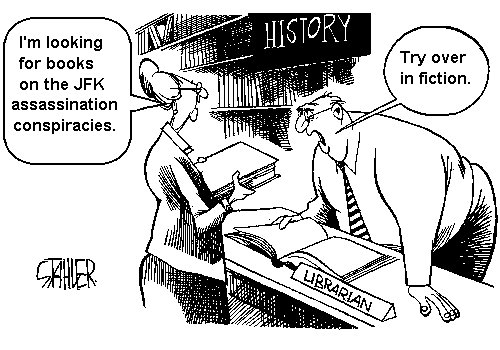 So, everyone should feel free to do their own investigation of the new theory about the Secret Service agent accidentally shooting JFK, instead of waiting on me. I won't be doing any investigating on that subject. But, I'll have a copy of "JFK: The Smoking Gun" in case I ever do get into the mood to watch it all the way through.

The Google barge mystery I mentioned last Sunday seems to be solved. Yesterday's San Francisco Chronicle explains that it is going to be a tourist attraction, a meeting center, and a "work of art" that can be moved from place to place in San Francisco Bay and elsewhere along the West Coast. The SF Chronicle article makes no mention of the fact that there's an East Coast version, too. The Guardian, however, has an article which says that that mystery is also solved. According to The Guardian, it's the same thing as the West Coast barge, primarily an "interactive learning center."

Meanwhile, in case anyone's interested, I've been

very

busy with my new sci-fi novel during the past week. I have no firm idea what the key event in the story is. Right now, the book has the main character working with two scientists who invented a new type of crime-solving tool. And the three of them are slowly being drawn into trying to help stop a group of Right Wing terrorists from committing some dastardly deed.

Unlike screenplays, where it's definitely best to have the characters and the beginning, the middle and the end of the story all laid out before you actually start writing, writing novels can be much more organic. You just pick a character or two, and a general idea, and start writing. If done right, and if each chapter ends with a bit of a "cliff hanger," the idea for the next chapter springs into your mind as you finish the current chapter. You become just as interested in seeing what happens next as literary agents and the eventual book

buyers

will hopefully be when the book is finished.

If you don't believe any "professional" would write a book that way, a few days ago I happened to see a CNN interview with best-selling author Scott Turow where he said that is

exactly

what he does. I can't find that specific interview on CNN or YouTube.com, but in other interviews HERE, HERE and HERE he talks about how his latest book "Identical" began with an idea about identical twins. (Click HERE for an interesting discussion of problems with publishing e-books that are then "re-sold" without profit to the author. He also talks about how e-books are handled by libraries.)

Here are the current stats for my new novel (I'm currently on chapter 14):


| | | | | | |
| --- | --- | --- | --- | --- | --- |
| Chapter | Pages | Pgs total | words | wds total | Started |
| 1 | 5 | 5 | 880 | 880 | Oct 29 |
| 2 | 7 | 12 | 1425 | 2305 | Oct 30 |
| 3 | 9 | 21 | 1883 | 4188 | Oct 30 |
| 4 | 5 | 26 | 1065 | 5253 | Oct 31 |
| 5 | 7 | 33 | 1320 | 6573 | Nov 1 |
| 6 | 9 | 42 | 1919 | 8492 | Nov 1 |
| 7 | 9 | 51 | 2082 | 10574 | Nov 2 |
| 8 | 8 | 59 | 1473 | 12317 | Nov 3 |
| 9 | 8 | 67 | 1574 | 13891 | Nov 3 |
| 10 | 9 | 76 | 1928 | 15819 | Nov 4 |
| 11 | 6 | 82 | 1186 | 17005 | Nov 5 |
| 12 | 10 | 92 | 2314 | 19319 | Nov 7 |
| 13 | 6 | 98 | 1117 | 20436 | Nov 7 |
| 14 | 1 | 99 | 10 | 20446 | Nov 9 |

The minimum length for a novel is generally considered to be 60,000 words. So, while it may seem from the word count alone that I'm about one-third done, in reality I'm just on the first draft, and the first draft could easily end up with only about 40,000 words. Or it could be 80,000 words. There's no way to tell. And it's the writing of the

second

draft where I will almost certainly be spending the most time.

Although it's a sci-fi novel, the story within the novel takes place in the current time, not in outer space or in the distant future. As I mentioined above, it involves the invention and use of a new tool for crime-solving. Use of the tool can pose certain dangers, but the results can be extremely valuable - or totally worthless. So, the first part of the book follows the story teller as other main characters experiment with the device to show the story teller what it can do. In the next chapter or so, they'll start getting more involved with solving the major crime that involves Right Wing terrorists.

While I plan to have the main action take place in Washington, D.C., the story

begins

in the Chicago area. I've been using Google's satellite images and "Street Views" to figure out what things look like

where

things happen. I spent most of Friday with the main characters visiting a spot where a large helicopter involved in a crime landed on a golf course. I picked the landing spot to be just to the left of the green in the bottom right of the satellite picture below. I was going to have the investigators walk onto the golf course the same way a patrol car had entered, via the "path" between the trees that can be clearly seen:


However, when I discovered there was a "Street view" of the area available for viewing, I quickly found that there is no "path" there. It is more properly described as "a gap between trees." The satellite view was probably taken in November when the trees were bare and the ground was covered with dead leaves. The Street View was taken in July when the trees were in full growth. My story takes place in May.

And, it's not a

flat

"path" as it seems to be in the satellite view. It's an incline down to the golf course, with a gravel path at the bottom of the incline.

But, the investigators

can

still enter through there, and so can a patrol car - particularly if the alternative is to drive across the golf course from the club house. And, as you can see, there is no curb to prevent driving onto the grass. I had to do other kinds of Google searches to try to figure out what those small white and dark objects are in the gray rectangles next to the greens in the satellite view. They appear to be a ball washer and sign indicating the hole number, the number of yards to the next hole, etc. That kind of detail helps me describe the setting to the reader. It's certainly easier than actually driving to Chicago to see for myself, and it's infinitely better than just trying to make up a believable but

imaginary

location and all of its surroundings.

I have no way of knowing if the above information is of any interest to any reader of this web site, but it was absolutely

fascinating

to me to see exactly what someone at the scene of the abandoned helicopter would see. When I do the second draft, I'll have to research large helicopters that do heavy lifting for construction work so that I can better describe what such a machine looks like while setting there on the grass of the golf course (with the dead body of the owner still inside).

I also need to do some research to find out what kind of aircraft can haul a fully loaded semi-trailer truck from Chicago to Washington, D.C. A C-17 Globemaster can almost do it. But, as seen in the picture HERE, the wheels would have to be removed when it is positioned at the plane's center of gravity between the wings. A C-5 Galaxy may be better, but it's still a tight fit.

Busy busy busy.