Updates & Changes: Sunday, March 27, 2011, thru Saturday, April 2, 2011


April 2, 2011 (B) - Anti-War Radio has an interview with Noah Shachtman of Wired Magazine. The interviewer from Anti-War Radio has beliefs about that anthrax attacks that are so ridiculous that even Shachtman had to try to distance himself from some of them, specifically beliefs that the FBI drove Ivins crazy and that they somehow wanted Ivins to commit suicide. But, Shachtman also shows himself to be sorely ignorant of key facts in the case. The only things he seems to know about are flask RMR-1029 and the fact that the envelopes were bought in Virginia or Maryland.



April 2, 2011 (A)

- Lawyer/conspiracy theorists Barry Kissin has released a new diatribe re-stating his unshakable belief that the "truth" about the anthrax attacks was determined shortly after the attacks, in late 2001, when very few facts were actually known. Kissin's belief:


In order to cover-up the evident connection between our secret anthrax weaponization projects and
the attack anthrax, it would be necessary to negate the fact that the attack anthrax (particularly in
the letters to the Senators) was weaponized.

In other words, the anthrax used in the attacks were weaponized in a way that can only be done in a secret and illegal U.S. government bioweapons facility. So, all the facts that have learned since October 2001 are just part of a vast government conspiracy to hide the "truth" about those secret and illegal activities.

I notice that there are currently six on-line comments about Barry Kissin's diatribe, and 5 of the 6 basically say they are tired of reading about Kissin's ridiculous beliefs.

March 31, 2011 - Mumble mumble, groan, groan. I don't really need anything to break my focus right now, and this is definitely off topic, even though I've been discussing for months the coding that Bruce Ivins put into the media letter and into the senate return address ZIP Code. But, this morning someone sent me an ABC News article about a code that the FBI trying to break in another case. Here's how the ABC article begins:


The FBI is looking for a few beautiful minds to help solve a murder case. If you think you have what it takes to crack a code that the best cryptanalysts in the country have failed for 12 years to master, they'd like to hear from you.
On June 30, 1999, police in
St. Louis
found the body of Rick McCormick, 41, who had been murdered and dumped in a field. The only clues the FBI found about the time leading up to his death came in the form of two pieces of paper in his pants pocket: Handwritten on the scraps were 30 lines of numbers and letters grouped into several sections.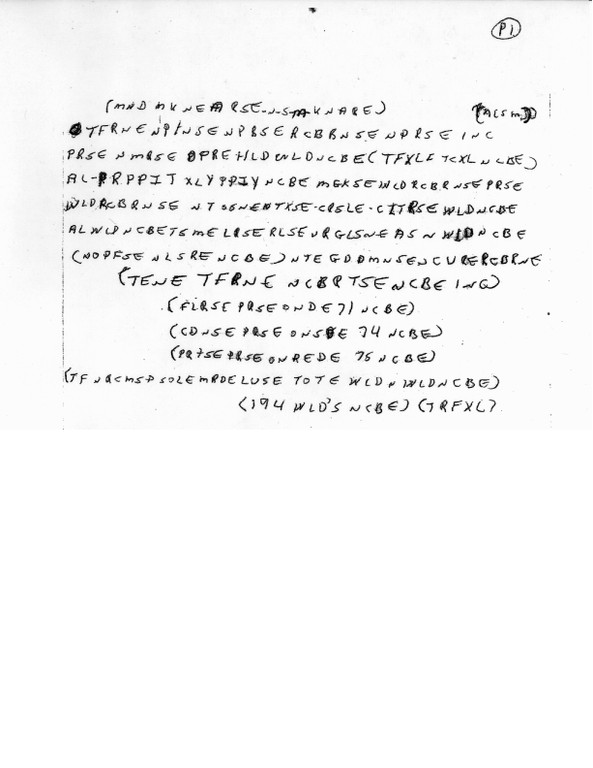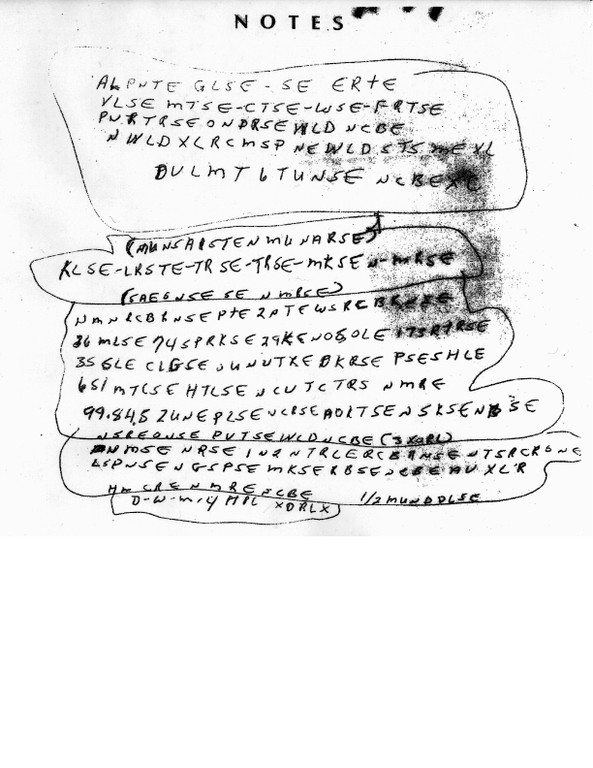 The ABC article also gives some information about the murder victim:


McCormick was a high school drop-out -- literate and street smart --
who had written encrypted notes to himself ever since he was a child.
But none of his friends or relatives had ever been given the key to his cipher, according to the FBI. Investigators suspect the notes were written up to three days before his death and unlocking the code could lead to information about the time before his death.
So, the coded message might be something the guy did as part of whatever hobby or activity or business he was involved with, and it might have nothing to do with his murder at all.


It's very clear there are patterns in the message.

WLD

seems to appear a lot, and a lot of groups of letters end in

SE

. And there's an

apostrophe

in

(194 WLD'S NCBE)

that might be a place to begin. Or you might start with these three very intriguing lines:


(FLRSE PRSE ONDE 71 NCBE)
(CDNSE PRSE ONS

*

E 74 NCBE)

* represents an unclear character
(PRTSE PRSE ONREDE 75 NCBE)

There are just too many lines and "words" that end with the letter E. E

has

to have some

other

meaning.

The reader comments on the ABC site seem to have some very good ideas about what is needed to decode the message. For example:
The puzzle's solution is, first, sociological (Who was this guy, and what was on his mind?) Second, it is linguistic (How did he talk to people when he speaking naturally and, especially, when he was tired?) Third and only a distant third, it is a cryptographic problem.

and I like this comment very much:
the scribbled out letters indicate that the writer must have been creating the code mentally as he wrote it down, therefore simplifying the possible complexity of this particular code.

One reader's comment also has the written text converted to typed text. But I wouldn't rely on it. He converted the last line to
D-W-M-Y HPL XDRLXI.
But, is it a

Y

or is it a

4

? And is it

HPL

or is it
PTPL

or

PTP6?

If he didn't draw M's differently everywhere else, it might even be

MI6.

And there is no

I

at the end of

XDRLX
.

Because the number

99.84.5

(or

99.84.52

or

99.84.5.2

) seems like it could be a key, I did a Google search and found another web site devoted to decoding this material. Someone thought it might be an IP address and wrote:


I added the 2 before the une and found this. Location near Wichita, KS . On NW 120th Street. Hmmmmmmmmmmmmmm. The plot thickens.


And what about

1/2 MUND PLSE

? That

1/2

could be another key to figuring things out.

I also wondered if it could be the writing of someone with dyslexia who was writing the way that made sense to him, since there seem to be some of these signs of dyslexia in the writing:

they may insert or leave out letters, such as could-cold or star-stair.
they may say a word that has the same letters, but in a different sequence, such as who-how, lots-lost, saw-was, or girl-grill.

b-d confusion is a classic warning sign. One points to the left, the other points to the right, and they are left-right confused.

b-p, n-u, or m-w confusion. One points up, the other points down. That's also directionality confusion.
The dead man knew how to read and write, but writing normally may have been like writing in Russian or some foreign language he found much more difficult to comprehend.

Note that on the first page he uses parentheses extensively, except for lines 2 through 7 where parentheses are used to enclose material within those lines. But on the second page he uses parentheses only three times, on very short "sentences." Mostly, he circles things instead. This

might

be an indicator that he uses those techniques instead of indenting paragraphs, because indenting and blank lines to create paragraphs that are too confusing for a man who suffers from left-right confusion.

There are 31 lines in the two pages of coding, not including the circled

P1

or the

(AC5M)

or whatever it is the top of the first page.

23 lines end with the letter

E

.

2 lines end with

1NC

. 3 lines end with

XL

, 1 ends with

XL 'R

, 1 ends with

(3 XoRL)

or something like that, and 1 line ends with

RLX

. There's a pattern there in the X's, L's and R's. But I don't know what the pattern means.

In the fourth line of the first page, he has two instances where the letter "I" is written with serifs (the horizontal lines at the top and bottom). He seems to write the number one without serifs: |. So, it's

1NC

,

not

INC. That makes me wonder if he doesn't avoid using the letter "I" unless he has to, because he too often sees it as the number 1.

I think the FBI needs to have some experts in dyslexia (and/or some people with dyslexia) look at the coded pages to see what they can figure out.

I could probably spend the rest of the week (or year) on it, but I've got to try to stop thinking about it and get back to work on things I

should

be working on.

March 30, 2011 - One of the complex subjects in the Expert Behavioral Analysis Panel (EBAP) report is the diagnosis of Ivins' mental condition. On page 165, they seem to say that Dr. David Irwin's diagnosis of "sociopathic" does not meet all of the items on the standard forensic psychiatry checklist for such a condition. Specifically, Ivins did not demonstrate sociopathic characteristics before the age of 15. (Or, there is just no record of it.) So, the panel settled on a dianosis of "Personality Disorder Not Otherwise Specified, with Narcissistic and Antisocial Features," which basically means Ivins fell into several different psychiatric categories. All of the information about Dr. Irwin's diagnosis is redacted, so there's no way to see exactly what he reported.

As I stated in an earlier post, while some of the evidence described in the EBAP report seems almost like "smoking gun" evidence, some of other the evidence against Bruce Ivins is fairly complex and definitely "circumstantial." For example, on page 69 it says:



Dr. Ivins was particularly interested in Gödel, Escher, Bach:

An Eternal Golden Braid, a complex book which defies easy

description but which deals in part with hidden messages and codes,

including DNA codes. Published in 1979, the book won the Pulitzer

Prize. In a June 2008 interview with investigators, Dr. Ivins described

the work, which is nonfiction, as "really cool" and volunteered that

he first may have learned of it from KKG Sister #2 in the late 1970's or early 1980's.


KKG Sister #2 is Nancy Haigwood, the woman Ivins had been fixated with for nearly 30 years. And, of course, the coding process used to construct the hidden message that Ivins put into the first set of anthrax letters was taken from the book

Gödel, Escher, Bach

.

That's not particularly incriminating, but then there's this from page 81:



For about 18 years since she moved from Gaithersburg, Md., in the early 1980s, KKG Sister #2 had had no contact with Dr. Ivins. On September 21, 2001, however, three days after the first letters were postmarked, she received an email from him at her place of work,

in Seattle.

He inquired about personal matters — her sons and their

educational plans — which he had no way of knowing about, to her

knowledge. He also offered a comment about his professional life:

"since we are the primary BW [Biowarfare] research center in this

country, we are all more than a bit on edge." Then — that very day —

he called her as well. His computer had not received a reply from

her server, he told her, so he wanted to make sure she had received

his email.

KKG Sister #2 found this sudden burst of communication disturbing.

In an interview with the FBI on January 16, 2008,

Dr. Ivins said he had

sent this email to KKG Sister #2 "after the anthrax attacks" in order to "refresh our acquaintance." But at the time he contacted KKG Sister

#2, no one else knew there had been an anthrax attack.

Dr. Ivins' first

email to KKG Sister#2 came three days after the postmark date of the

first anthrax letters and about two weeks before the media began to

report the anthrax attacks, in early October.


Ivins sent Haigwood an email "

after the anthax attacks," but at a time when only Ivins knew there had been an anthrax attack.

The email and phone call from a man who had harassed her for decades frightened Haigwood, and after the American Society for Microbiology sent a letter to all of its members asking if they knew of anyone who might have sent the anthrax letters, Haigwood wrote them this on February 1, 2002 (from page 82 of the EBAP report):



I am a microbiologist and a professor at the University of

Washington. I am a member of the American Society for

Microbiology and received their e-mail appeal. I would like to

speak to someone about a former colleague of mine who

presently works with anthrax at Fort Detrick MD. When we

were at UNC Chapel Hill in the mid 1970's, there were some

very unusual behaviors that he exhibited that were repeated

later in 1982-83.

I believe that this individual is somewhat

mentally unstable and has the profile of someone who COULD

be capable of such an act.

I certainly hope that I am wrong,

and no one hopes more than I that this person is not involved

in any negative way. I am very worried about being traced, as

this person is particularly adept at computer snooping. I do not

want to give out my home number or address for fear of my

personal safety and that of my children.

This person has

recently contacted me via unsolicited e-mail to my work to

show that he is working on anthrax.

He was concerned that his

computer did not receive a reply from our server and called to

be sure that it was me. I spoke with him briefly but certainly

do NOT have any personal relationship whatsoever. Please take

this seriously, especially the confidential nature.


The FBI contacted Haigwood, but, because they had nothing else at the time that pointed to Ivins, and probably because they were focused on suspects living in Central New Jersey, the FBI didn't pursue Ivins at that time as a suspect.

The EBAP report says this on page 123:



The evidence for the place occupied by KKG Sister #2 in Dr. Ivins'

motives also lies in the DNA codons in the fi rst set of letters.

Dr. Ivins thought that KKG Sister #2 would understand them.

During an interview with the FBI, he had falsely denied his own knowledge of this coded language. But he had bragged about KKG Sister #2's: She "is a Gene Jockey who could answer any such questions about DNA," he said. By sending letters with codons, he was showing off to KKG Sister #2.


That is definitely

circumstantial

evidence, and it certainly fits with everything else known about Ivins and his mental fixations and obsessions. There is a lot of creepy stuff in the report about the ways he harassed Haigwood, including writing letters to newspapers using her name, causing problems for her at where she worked, and ordering pornography using her husband's name.

There are other things in the report which probably cannot be considered as evidence at all, such as the way Ivins ignored the advice of his co-workers, and in December of 2002 he went to that pond in the mountains near Frederick which the FBI was draining to look for evidence against Dr. Hatfill. Ivins went as a Red Cross volunteer, but an FBI agent recognized him and asked the Red Cross to remove him from the area, since Ivins had connections to the case and it was inappropriate for him to be there. That's strange enough, but what's even stranger is that, for

years

after that incident, Ivins grumbled about having been removed from the site. He evidently believed that if he thought he should be there, that should be good enough for the rest of the world.

Lastly, there is information about how psychiatrists do not agree with each other. There is information that Dr. #3 (Dr. Levy) didn't even bother to read the diagnosis from Dr. #2 (Dr. Irwin) prior to beginning treatment. And, although one health care professional disagreed, after a couple weeks of examination, the psychiatrists at Sheppard-Pratt didn't see Ivins as a threat to himself or others, and they released him. Within hours of his release, Ivins was buying the Tylenol he would use for his suicide.

On page 232, there is this interesting tidbit of information about mental health care patents in general:



Patients with VIP status sometimes paradoxically receive lower quality

care, in part because the normal level of objective discernment by

medical personnel gets compromised.


Page 257 has this information about Ivins' suicide a few days after his release from Sheppard-Pratt:



Based on his laboratory tests,

it appears that Dr. Ivins presented to the

hospital more than eight hours after his overdose of acetaminophen.

However, his initial abnormal laboratory findings were not due solely to

his APAP overdose; there were also complications associated with the

other medications he ingested.

Dr. Ivins not only took an overdose of

acetaminophen, he also took an overdose of other medications that

caused profound sedation,

as well as subsequent "pressure sores,"

rhabdomyolysis, metabolic acidosis, electrolyte abnormalities,

dehydration, and renal failure.


And, page 260 has further information:



A review of the EMS and Hospital records from July 27 to July 29

clearly shows that Dr. Ivins took an intentional overdose of multiple

medications. In so doing, we believe he followed a careful, two-step

plan, entirely consistent with XXXXXXXXXXXXXXXXXXXXXX

XXXXXXXXXXXXXXXXXXXXXX

He took an extreme amount

of sedatives in order to lose consciousness. But knowing that he might be found unconscious before he died and resuscitated, he also took a fatal overdose of acetaminophen to assure that healthcare teams could

not save him.


Unless something unexpected comes up, I think that's the last of my comments about the EBAP report. It's time for me to get back to working on my book. I've got a

lot

of notes about information that needs to be added to the chapters I'd thought I had already completed. And, of course, I still have around 9,000 pages of FBI documents to examine.

March 29, 2011 (D) - I got what I wrote that I hoped for in my (B) comment today - unfortunately. Wired magazine has a second article about the anthrax attacks of 2001. It's titled "Did the Anthrax Attacks Kick-Start Iraq War?" It's a ho-hum piece rehashing the fact that anthrax and other Weapons of Mass Destruction were a major reason for starting the war with Iraq. And it was all bogus.



The anthrax attacks "made it possible to manufacture the argument that there was WMD in Iraq and links to Al-Qaeda," Rep. Rush Holt, a leading Congressional critic on the anthrax investigation, tells Danger Room [Wired's blog].



No kidding. But, does that mean that some government agency was behind the attacks instead of a lone nut case like Bruce Ivins?

No

, it doesn't. But, there's no way to convince the Anthrax truthers who

"take arbitrary 'facts'", string them together, take a great leap of 'faith' and declare 'It Must be Connected!'" The article doesn't imply any conspiracy or illegal acts. The author seems to realize it was all the result of confusion and a lack of facts. The article also says:





"I think the seminal event of the Bush administration was the anthrax attacks," someone close to the president told me. "It was the thing that changed everything. It was the hard stare into the abyss."





In the days that followed, a few government officials (most notably, Sen. John McCain) publicly suggested that the Saddam Hussein regime may have been behind the anthrax letters. ABC News trumpeted a bogus claim that the attack spores contained the chemical additive bentonite, a hallmark of the Iraqi anthrax program. "Some are going to be quick to pick up on this as a smoking gun," anchor Peter Jennings said.



So, the Iraq war might be called "collateral damage" resulting from the irresponsible actions of a lone scientist who just wanted to make himself seem more important and impress a woman who didn't want anything to do with him. In many ways, that's

much

scarier than some crazy theory about a vast criminal conspiracy involving thousands of Americans.

March 29, 2011 (C) - Hmm. Rush Holt is once again arguing his beliefs in the media. This morning, the Trentonian has an article titled "Anthrax killer might still be on the loose, says U.S. Rep. Rush Holt." A couple key paragraphs:



"Let me put it this way: I wouldn't want to be the lawyer taking this to court," said U.S. Rep. Rush Holt. "Every agency would like to say the case is closed, but I

'd feel a lot better if it rested on physical evidence

."




And





"

Did Ivins do it? I'm not saying that he didn't

," said Holt. "But the case is not as solid as the public deserves."




And





The circumstantial evidence is there; most will agree. But hard evidence? Virtually non-existent.





And the last two paragraphs:





Remember the attack? Remember the feeling of being scared of your mail? Remember the feeling of seeing death in the remnants of a powdered donut? It wasn't fun. And now, some 10 years later, we're probably no better equipped to deal with it and no better informed when it comes to who did it, and why, and how, and when.

All we've got, for sure, it the what.



It the what? What? What it the what?

What does Rep. Holt want? Does he want the FBI to

create

some physical evidence where none exists? Or does he believe that there is

always

physical evidence in

every

crime, and the FBI just failed to look for it?

March 29, 2011 (B) - This morning, Wired magazine has published another article about the anthrax case, apparently in an effort to ward off the bad impressions given by their badly timed previous article. The new article is titled, "Postage Stamps Delivered Anthrax Suspect to FBI." That title is a bit of an overstatement, but the article ends with some information about how circumstantial evidence must be viewed:


People looking for the veritable smoking gun or for a CSI-style resolution to the anthrax case are bound to be disappointed. Put all the clues together, and a potent, if circumstantial, case emerges, investigators insist. Ivins' swiss-cheese alibis, his violent fantasies — add them to the attack spores' genetic fingerprint and the envelopes, and the whole starts to appear greater than the sum of the individual parts.

"Out of context, it's all pretty unpersuasive," says one source, close to the investigation. "Taken all together, it's convincing."

It's a step in the right direction. Hopefully, there will be more Wired articles about more of the evidence.

However, the Wired article is a bit misleading about the "indicia defects" in the printing of the envelopes. The defects are

not

just in the stamp. According to page 52 of the FBI's Summary Report, the

back

of the envelope also contained printing. In the bottom center, there was text which read: "THIS ENVELOPE IS RECYCLABLE AND MADE WITH 100% RECYCLED PAPER, 30% POST-CONSUMER CONTENT." There were defects in this printed lettering, too. And the defects were

transient

, meaning they were the result of clots of ink or bits of paper that would appear on a plate and then later disappear. That was what enabled the investigators to identify a specific

batch

of envelopes that went to Maryland and Virginia (and

not

to Ohio or Utah) as the the source of the envelopes used in the mailings.

But, most interestingly, the printer used TWO plates to print the envelopes, so every other envelope in a completed batch of envelopes contained printing from a different plate than the envelopes in between. And, the defects on the two plates were

different

. Thus, the FBI was able to determine that Ivins probably used the envelopes in this sequence shown below (red indicating plate #1, black indicating plate #2):



1 - Brokaw

2 - NY Post

3 - ABC

4 - CBS

5 - AMI

6 - Daschle

7 - Leahy


The "indicia defects" on the Brokaw envelope matched the defects on the Leahy envelope, and the defects on the NY Post envelope matched the defects on the Daschle envelope.

March 29, 2011 (A) -

Hilarious!!!

People are laughing hysterically over it. DXer is back posting endlessly and furiously to Lew Weinstein's site. The thread where it was announced that DXer had left is now gone. And it appears that all (or nearly all) of the DXer posts that Lew had deleted have been restored. The only thing missing is: an explanation.

March 28, 2011 - I've finished reading the report by the Expert Behavioral Analysis Panel. After page 106 or so, there aren't many additional items of fascinating new information like those I wrote about yesterday. After page 106, the report is mostly just about complex matters that require some careful thought on my part before I can make any comments about them. The rest are redacted pages of information from Ivins' psychiatrists, plus pages of technical details about psychology, about procedures for keeping dangerous materials secure, and about points of law about psychology and keeping dangerous materials secure.

Meanwhile, someone brought to my attention a new article about "9/11 truthers" who are really not much different than "anthrax truthers," except that 9/11 truthers generally think that anthrax truthers are nuts, and anthrax truthers generally feel that 9/11 truthers are nuts. And, among anthrax truthers, those who believe al Qaeda did it think those who believe it was a vast conspiracy by the U.S. government are nuts, and vice versa. The common tread that strings them all together is that they all think the government is either lying or incompetent or both. Only the "truthers" know the truth.

According to the 9/11 truther article:



A poll conducted this earlier this month showed that

15% of people in the US believe that collapse of the World Trade Center on 9/11 was caused by a controlled demolition.

And that number gets even smaller when the missile and hologram theories are introduced.


And as many as 28% of Americans still believe that America never went to the moon. I don't recall if there has ever been a reliable poll of what Americans think about the anthrax attacks. It wouldn't surprise me if 25% believed that al Qaeda was behind the anthrax attacks.

Plus

, there are those who believe it was either a U.S. government plot to help start the war with Iraq or a plot to cover up some secret and illegal bioweapons program.

At the 9/11 truthers conference:


Engineer Tony Szamboti and chemist Kevin Ryan did a thorough job of questioning the credibility of the official conclusion that Building 7 collapsed from fire — even the officials who wrote it weren't initially keen on its conclusions. But there were frequent standing ovations as this information was presented, and without any debate from qualified professionals on the other side of the issue, it was hard to verify what was true and what was pabulum for a sympathetic audience.

Most glaring was the near-uniform method with which the speakers refused to answer the question, "Why?"

Dr. Graeme MacQueen echoed this demurral in asking, "If Building 7 was brought down by a controlled demolition…we have to ask the question 'why?' Why have we been lied to for nine and a half years? Why did they do it? These are all valid questions, but I won't visit them today." Tune in next conference?!


There's where the conflict comes in. When you ask "Why?", almost every truther has a different answer.

As of this writing, there are 110 comments posted at the end of the 9/11 truthers article. Most of the pro-truther comments are by "" who argues:



15% of Americans, but over 50% of the world, which ranks much higher in education, understand high school level physics and the impossibility of CIA mathematics.



To 9/11 truthers, people who believe hijacked airplanes piloted by al Qaeda terrorists brought down the World Trade Center towers are "sheeple" (sheep people). (One anthrax truthers calls his opponents "FBI shills.") Here's what one sheeple who calls himself "S.D" wrote about the conspiracy theorists:



Being polite here: This is what you conspiracy buffs do: Take arbitrary "facts", string them together, take a great leap of "faith" and declare "It Must be Connected!"...





The most interesting exchange I noticed is this one:





Did you see the video of the FDNY all agreeing that it was a controlled demolition on the day that it happened? Just be honest, did you see that video?

Just be honest - did you see a video with THE FDNY agreeing, on the day of the collapse, that it was a controlled demolition? Or did you perhaps see a video of a few in shock firefighters, marvelling at how the collapse looked like a demo (which it did). The Japanese tsunami looked like an outtake from a Michael Bay film, doesn't mean it was done by Hollywood. I've had the pleasure of meeting the fire chief on multiple occassions, rest assured he and the FDNY leadership doesnt agree with you.



Did you hear the radio show where USAMRIID scientist Henry Heine said Bruce Ivins couldn't have been the anthrax killer? Did you read the statements by Bruce Ivins where he said his

subordinates

could have done it?

How many experts have to

believe

in something before it becomes the "truth?" Or does the "truth" have nothing to do beliefs or with counting believers. Maybe it has something to do with facts.

How many facts are needed to change the mind of a "truther?" More than whatever number you have.

March 27, 2011 (D)

- Ah! More

NEW information!

This time it's about the July 2008 events leading up to Jean Duley calling the police to report Ivins' threats to kill his coworkers.

Here's what the EBAP report says starting on page 97 and through most of page 98:



Therapy group members were taken aback. According to the therapists

at the session, who were interviewed later by the FBI, some asked

him, "

If you are innocent, then why are you doing what you plan to

do?

" "Ivins did not reply and only smiled and was evasive. …

He thought he would be executed or go out in a 'blaze of glory' and be

killed by police."

"Ivins said that during the next twenty-four hours he would not do

anything, because he was not ready," the FBI notes on the interviews

with the therapists continue. "

The people in group therapy discussed

Ivins and agreed that he wanted to be killed in a 'suicide by cop'

scenario.

… After the session, one of the other therapy members

heard Dr. Ivins say, 'You will see me in the papers.'"

That same evening, shortly after the group session ended, Therapist #3

attempted without success to call Dr. #3, who was out of town. She also

contacted Dr. Ivins' attorney, "who agreed to have Dr. Ivins come down

to his office first thing in the morning to talk to Dr. Ivins, evaluate his

condition, and if necessary have him committed." On the morning of

July 10, Dr. #3 called back Therapist #3, who reported Dr. Ivins' threats

"to shoot co-workers and others that had wronged him."

According to

Dr. #3, Therapist #3 "was reluctant to contact authorities.

" The

psychiatrist suggested that Dr. Ivins' attorney be contacted. When

Therapist #3 did so, for the second time, the attorney tried to dissuade

her from calling authorities to hospitalize Dr. Ivins, she said; the

attorney, she later reported, said Dr. Ivins was "fine." That same day

Dr. #3 also spoke with the attorney, Dr. #3 later told authorities; the

attorney "pleaded" with him "not to call the authorities and just allow

Ivins time to 'calm down.'"

In spite of the attorney's objections,

Dr. #3 later told the FBI that

after consulting a colleague, he "instructed [Therapist#3] to call the authorities on Ivins." Therapist #3 then informed the Frederick Police Department of the situation.


Jean Duley is evidently "Therapist #3." This report shows a

very

different picture from the one the conspiracy theorists and True Believers tried to promote - that the FBI persuaded Jean Duley to call the police. On page 101, the report shows that the FBI didn't know anything about Ivins' commitment until he was already in the hospital.



FBI investigators did not question any of Dr. Ivins' current or former

mental health care providers until the Frederick police contacted the

local FBI office to inform them they were dealing with a man who

claimed to be a prime suspect in the anthrax mailings. The local FBI

office referred the report to headquarters, which sent word to the

investigative team.

Thus it was, ironically, Dr. Ivins' own statements to

the police during the commitment proceedings — identifying himself as a suspect in the mailings — that led the FBI to the Emergency Petition. And it was by reading that petition, which is a public document, that the FBI first became aware of Therapist #3.


Hmm. That seems to show that the conspiracy theorists and True Believers who were attacking and vilifying Jean Duley after she prevented Bruce Ivins from committing a

second

mass murder are even

more

stupid than I thought - and I already thought they were really

really

stupid.

I think that's enough commenting for today. I'll bookmark page 101 and re-start there tomorrow.

March 27, 2011 (C) - Hmm. On page 85 of the Expert Behavioral Analysis Panel report, there's a shaded box describing "An Unreported Skin Infection" that Ivins suffered on his hand

around the time of the anthrax attacks

. The symptoms are those of

cutaneous anthrax

, but there was no official diagnosis to that effect

. Ivins went to his family doctor for treatment. The first prescribed treatment (cephalexin) didn't help. So, Ivins went to a

second

outside doctor who prescribed doxycycline, which is a much better treatment for cutaneous anthrax (the CDC recommends it over Cipro for anthrax infections). It worked. Although it was required that he report such incidents to USAMRIID in his yearly medical assessment, Ivins didn't report either prescription or treatment. Instead, he only reported that he has suffered an episode of chest pain and pneumonia.

So, it appears that there

may

have been another (but unreported) case of cutaneous anthrax from the 2001 anthrax mailings. The conspiracy theorists and True Believers will undoubtedly just dismiss the undiagnosed infection Ivins suffered as another meaningless "coincidence."

And, since Ivins had his anthrax shots, the question arises: How effective was the vaccine he was getting? According to a comment on page 79, Ivins had gotten his (annual?) anthrax vaccine shot on September 7, 2001, or thereabouts. Would that be like getting infected

twice

, once by the shot, once by live anthrax? I dunno. Plus, a source says:



The Food and Drug Administration (FDA) licensed a vaccine in 1970 for workers at high risk of occupational exposure to anthrax. The vaccine is reported to be

92.5% effective

in protecting against cutaneous and inhalational anthrax combined.


92.5% effective definitely isn't the same as 100% effective. And, one of our favorite "truthers," Dr. Meryl Nass, seems to believe that the anthrax vaccine has only "some" effectiveness:



Although the study calculated vaccine effectiveness as 92.5%, I believe that all that can be said is that there is

some

efficacy,

but the actual % efficacy cannot be calculated due to the small number of cases.




So, evidently, Dr. Nass wouldn't be at all surprised if Bruce Ivins contracted cutaneous anthrax during the times the anthrax mailer was preparing the anthrax letters, even though Ivins had been vaccinated against anthrax.



March 27, 2011 (B) - I've finally found some time to continue reading the report by the Expert Behavioral Analysis Panel, and the wealth of new information continues. On page 42 there is a description of how the BSL-3 hot suite is laid out, and how you have to strip naked and get into lab clothes and shoes to go inside, and how you must shower when leaving. (This could be figured out before, but it's nice to see it stated in writing.) And on page 43 there is this:



Uninviting as the hot suite was, Dr. Ivins and some of his

colleagues sometimes took reading material there that was

unrelated to their research.


A colleague noted that

one periodical to be found there was the

National Enquirer. Although it was brought in by one of Dr. Ivins' technician assistants, Dr. Ivins occasionally referred to the publication himself in emails and in conversations, and once joked that he might someday be the subject of one of its headlines: "Paranoid Man Works with Deadly Anthrax."
Among the recipients of the first set of anthrax letters was the

parent company of the National Enquirer, American Media Inc.

(AMI), then based in Boca Raton, Fla.

The address of the parent

company at that time — the address to which the letter was sent — was the former address of the National Enquirer itself, as listed in the back issues that had piled up in Dr. Ivins' office. One copy of

the paper was found in the hot suite.

The letter caused the death

of photographer Robert Stevens, the first of the five fatalities from

the mailings.


This new information helps to explain why Bruce Ivins chose the National Enquirer as one of his media targets, and how he happened to use an obsolete mailing address, but, no doubt, the conspiracy theorists and True Believers will consider this to be "just another coincidence."

March 27, 2011 (A)

-

WOW! What a week! I don't think I've been so busy since the days in early August of 2008, after it was revealed that Dr, Bruce Ivins was the anthrax killer. And a lot of what I learned last week was

totally fascinating

. But, most importantly, there was a lot of

NEW information

made available. I

thrive

on new information. The report from the Expert Behavioral Analysis Panel (EBAP) is a

gold mine

of new information.

For example, I've been trying for

months

to figure out when and where Dr. David Irwin came into the case. I knew that Dr. Allen Levy was Ivins' psychiatrist from sometime in 2000 until Ivins' death in July of 2008. And, I knew the Lunatic Fringe was just spouting nonsense when they claimed that Dr. Irwin was working for the FBI when he diagnosed Ivins as "homicidal, sociopathic with clear intentions," and made that diagnosis in July of 2008. I knew the diagnosis was made in 2000. But

when

in 2000? I had written in the first draft of my new book that it was early in 2000, months before Ivins told his therapist about his plan to poison a "young woman" if the woman lost a soccer game. I'd figured that Dr. Irwin must have been consulted by Dr. Levy to get a "second opinion." I was part right, part wrong. I was right on the time frame, but it wasn't a "second opinion." Dr. Irwin was the

second

of

three

psychiatrists to treat Bruce Ivins. The report from the

EBAP

says on page 28:



Following his outpatient psychotherapy and medication treatment

with Dr. #1, Dr. Ivins appears not to have requested or received any

psychiatric care for about two decades. In 2000, however, XXXXXXXX

led him to seek out Dr. #1 again. By this time, however, she had retired. She referred

him to another psychiatrist in suburban Maryland,

Dr. #2

.

[Dr. Irwin]

In compliance with another federal court order, similar to the one sent to

Dr. #1 and Dr. Ivins' other therapists, Dr. #2 consented to be interviewed

by the FBI and provide his treatment records. They show that Dr. #2

conducted five treatment sessions with Dr. Ivins in the first half of 2000

.

In those sessions, Dr. Ivins revealed XXXXXXXXXXXXXXXXXX

XXXXXXXXXXXXXXXXXXXXXXXXXXXXXXXXXXXXXX

XXXXXXXXXXXXXXXXXXXXXXXXXXXXXXXXXXXXXX

After the fifth session,

Dr. #2 referred Dr. Ivins to Dr. #3 [Dr. Levy], another

Maryland psychiatrist,

for reasons related to insurance coverage

and location.

For the next eight years — from May 2000 until mid-July 2008 —

Dr. #3 and his staff provided Dr. Ivins with individual psychotherapy,

group psychotherapy, and medication management.

The staff

members who provided care other than medication management,

which was provided by Dr. #3, were all therapists employed in Dr. #3's

practice.


So, Dr. Irwin began treating Ivins in February of 2000. According to The Washington Post:



E-mails between Ivins and a friend, also released by the government, show that the bioweapons researcher sought help in February 2000 from a psychiatrist who immediately prescribed antidepressants.



Then in May of 2000, Dr. Irwin referred Bruce Ivins to Dr. Allen Levy at Comprehensive Counseling Associates (CCA). And, a month later there was the talk about Ivins' plan to poison a "young woman."

Everything about Dr. #1 treating Ivins was totally new to me.

She

treated Ivins from September 12, 1978 until the fall of 1979. That means Ivins went to her just

two weeks

after he went to work for the Uniformed Services University of the Health Sciences in Bethesda, MD. That was probably the first time his health care insurance covered such treatments. It was also around the same time that Ivins was doing the Kappa Kappa Gamma burglaries.

Whew! All the pieces finally fit for that part of the puzzle.

I was somewhat puzzled by the

new information

about the ZIP Code used on the senate letters. I felt I fully understood why Ivins put the hidden message in the

media

letter, but I thought the

senate

letter didn't contain any hidden codes, because by that time Ivins had realized that he'd killed Bob Stevens. So, playing hidden message games no longer made any sense. But, now it seems there is again a question of exact times. The senate letters were postmarked on the 9th of October, 2001, but, because of the Columbus Day holiday weekend, they may have been mailed as early as the 6th. The news broke about Bob Stevens on the 4th. But, the senate envelopes could have easily been addressed

prior to the 4th

. Thus, Ivins could easily have still been in his game-playing mental state when the envelopes were addressed.

Again, all the pieces fit.

And, I'm still only on page 40 of the 299 page report. What

additional new information

does the full report hold? I'm anxious to get back to reading it, but I keep getting sidetracked by other pressing matters.

I was also fascinated by the Expert Behavioral Analysis Panel.

When I heard that their full report was available, I couldn't find any information about it anywhere, and I contacted them to get more information. I even

called

them. I almost

never

call people I know only via the Internet. I prefer emails, because it results in documentation and because you don't have to worry about catching people at the wrong time or interrupting them when they're very busy, as phone calls so often do.

As a result of my phone calls to Patrick Walsh at the Research Strategies Network to get information, I realized that I was dealing with a group that was

not

a government organization, it was probably not even a place with its name on a door. It's a group of individuals who would probably meet at someone's home in the evenings to have their discussions. The report says on page 25:



The Panel met face-to-face for approximately 15 days over a five

month period from September 2009 through January 2010. Panel

members also communicated regularly through scheduled conference

calls, which continued until this report was completed.


The EBAP is a group of professionals that was formed to provide government agencies with analyses of psychiatric matters

as a public service

for free

- except for expenses. It's a "think tank." And because they are a non-profit "think tank,"

they have no support structure

. They have no secretaries, they have no Computer Department, they have no Payroll Department, Accounting Department, Sales Department, Advertising Department or Shipping Department. It's just nine

experienced and dedicated professionals

working together to help government agencies who need the type of help they can offer. Here is a list of the top notch professionals on the panel:



1. Chair: Gregory Saathoff, MD

- Executive Director, Critical Incident Analysis Group, University of Virginia School of Medicine

2. Vice Chair: Gerald DeFrancisco

- President, Humanitarian Services, American Red Cross

3. David Benedek, MD

- Professor, Department of Psychiatry, Uniformed Services University School of Medicine

4. Anita Everett, MD

-Section Director, Community and General Psychiatry, Johns Hopkins University School of Medicine

5. Christopher P. Holstege, MD

- Chief, Division of Medical Toxicology, University of Virginia School of Medicine

6. Sally C. Johnson, MD

- Professor, Department of Psychiatry, University of North Carolina-Chapel Hill

7. J. Steven Lamberti, MD

- Professor, Department of Psychiatry, University of Rochester Medical Center

8. Ronald Schouten, MD, JD

- Director of the Law & Psychiatry Service, Massachusetts General Hospital, Harvard University School of Medicine

9. Joseph C. White

- Senior Vice President, Chapter Operations, American National Red Cross

Because they have no computer department, they apparently just have a volunteer who helps out. That's why their web site had a link to a page with their press release, and at the bottom of that page there was a link that just went back to their web site, instead of going to a page with information about the members of the panel and how to purchase the full report. It took me several calls to make Walsh understand that no one could find that page of information because of the wrong link at the end of their press release. And it explains why they use Lulu.com to distribute copies of their report. They have no publishing capability of their own. They can't use the Government Printing Office. So, they have to "self-publish." And, depending upon how you do it and what your needs are, it can cost a lot of money to self-publish a book (trust me on this, I know it for a fact). Without any idea of how many books you need to fill orders, you have to "publish on demand," which means every book can be fairly expensive for the customer.


These dedicated professionals are doing a public service. They've provided a wealth of new information that probably wouldn't have been made available any other way. And they have provided a good foundation for understanding how someone like Ivins could do what he did. He was able to prepare the anthrax and the letters because people who should have been alarmed by his unsupervised, night-time lab work were complacent and practically asleep on the job. There are lessons there for how such things might be prevented in the future. The panel did a terrific job!


And, yet, the conspiracy theorists and True Believers on The Lunatic Fringe are attacking them for what they did.


As I see it, the only question remaining is: Are the attacks upon the

Expert Behavioral Analysis Panel by the Lunatic Fringe

nearly as stupid

as their attacks upon the woman who called to police to prevent Ivins from committing a

second

mass murder, or are they

equally

stupid?